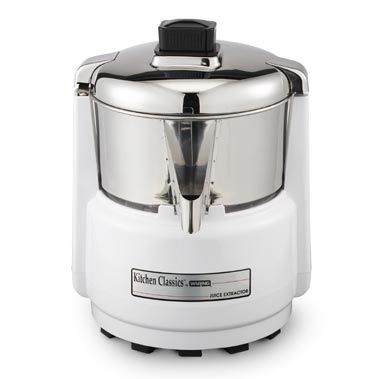 Waring® Juice Extractor
Waring® Juice Extractor is balanced for quiet, vibration free operation and helps separates fruit and vegetable juices from pulp
Powerful 550 watt motor
32 oz. capacity
Measures 12" L x 9" W x 10" D
Weighs 8 lb.
UL Listed
5-year limited manufacturer's warranty on motor
Model PJE401
SKU # 11840000
Waring® Juice Extractor
3
3
Cancer buster.
I used this juicer to get rid of cancer. I used Breuss Juice Cure. Red beets, black radish and carrot juice. I bought this juicer years and years ago. It is just wonderful. I used it and used it and it's worth its weight in gold. The filters might seem an inconvenience, but it gets rid of the pulp, as it should when it is used to get rid of serious disease. The best gadget I have ever bought.
April 5, 2014
Quality built to last
This juicer is superb. I have had one for years and just purchased a second one, newer but identical model, for my second home. I put it in the same quality and timeless kitchen tool category as one would place the Kitchen Aid mixer. Well built quality that has not been cheapened over time. We use the filters for items like carrots that are exceptionally high in fiber and it makes for easy clean up and well filtered juice.
March 1, 2014
Meh
I've owned this juicer about 7 years. I used it for a few months at the beginning, then got frustrated and put it away. Recently I pulled it out again to give it another try. Nope. This juicer works okay if you only want to juice small amounts (8oz or so) at a time and only the med-harder fruits/veg. It does not do well with greens and softer fruits like berries. Since the pulp stays in the machine (pushed up against the sides like a washing machine in the spin cycle,)it gets full fairly quickly and you have to stop often, disassemble and clean it out otherwise it will get off balance, vibrate like a 6.0 earthquake and eventually dislodge the cover - which means juice and mess all over the counter. In small batches, the pulp is very dry. I find it juices better without the paper filter but alas, that makes clean up harder. I am going to move on to another model - one that pushes the pulp out into a separate container.
June 24, 2013
Related Searches:
Similar Products:
Also check out:
Twin $79.99 - Cal King $119.99
(62 Reviews)

$80.99 Each

Excluded from Pack and Hold

$20 Manufacturer's Rebate Available

(194 Reviews)

$12.99

$9.69

Clearance!

Exclusively Ours

(4 Reviews)

$9.99

Beyond Value

(15 Reviews)

$7.99 - $14.99




$4.99 - $8.99

Clearance!

Exclusively Ours

(1 Review)

$16.99

$12.69

Clearance!

Exclusively Ours

(24 Reviews)
$69.99 - $99.99

Exclusively Ours

(9 Reviews)

$99.99

Exclusively Ours

(15 Reviews)