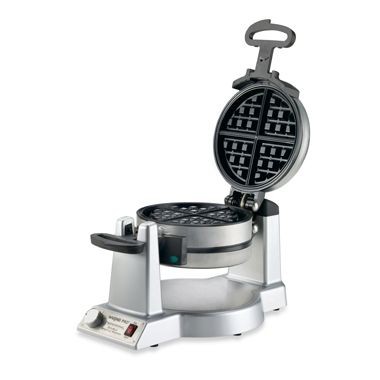 Waring Pro® Pro Double Belgian Waffle Maker
Six settings allow you to custom select the precise level of browning for the ideal crispness and golden texture every time
The extra deep 1" waffle pockets are easy to fill with the included measuring cup
Fill one side, then flip the iron 180 degrees, and add batter to the second grid plate
The upper and lower grids each feature their own green LED lights that illuminate when the waffle is ready and they have audio signals that beep 3 times to alert you when the waffle is done
No need to lift the lids to check on the waffles
The nonstick-coated plates allow easy release and hassle-free cleanup
Features on/off switch clearly visible on the front panel
Measuring cup is dishwasher-safe
Measures 9.8"L x 15.25"W x 9.4"H
Wipe clean
10-lb., 10-oz
Model # WMK600
SKU # 17628135
Waring Double Waffle Maker - WMK 600
This is the Waring Pro Double Belgian Waffle Maker. It's so much fun to use, and it's great because you can make two waffles at the same time. So, what we're going to do today is I'm just going put the batter in. It's already been heated up, and when it comes to temperature it beeps six times to let you know it's ready.
So, what I'm going to do is put the batter in, spread it out evenly and then what you're going to do is you're going to close it and rotate it and I'm going to explain to you why that's really important and then we're going to do the same thing on this side. And this is a really great way to make waffles really quickly on the weekend for your friends or your family. What we're going to do is close it again and rotate it, and what that does is it spreads the batter very evenly around the waffle maker. So, what happens is you get a really nice crust created on the outside and then when the waffle bakes you get a really tender fluffy interior. These Belgian waffles are going to come out and they will be about 1" thick and there's lots of beautiful finishes on the machine - stainless steel and also a nice painted finish. It has a shade control knob here which adjusts the temperature from one to six depending on how you like your waffles done. I picked medium today; and as soon as it beeps, it's going to let us know these waffles are done and it's ready to eat them.
So, the machine just beeped so I'm going to check on our waffles. I could have put a little bit more batter in, but they came out really light and fluffy. Like I mentioned, two at a time. Let's check on the other one. There you go. They smell really, really yummy; and they're really pretty. So, there you have it, the Waring Pro Double Belgian Waffle Maker.
Waring Pro® Pro Double Belgian Waffle Maker
45
48
LOVE this!
This is the best waffle maker out there! If you want golden, fluffy waffles, do not pass on this waffle maker! I had this on my wedding registry and my husband LOVES the waffles I've made him the past few weeks! I even took it to my parents place and made waffles for the whole family...it was such a hit and my mom just called to ask where I purchased this from...LOVE it!
July 15, 2014
Not just for waffles!!
Mine arrived just as we were leaving for a trip to my in-laws so we brought it with us. Not only does it make incredible waffles but we also used canned biscuits and cinnamon rolls and they were delicious. So much faster and easier then heating up the oven(and kitchen). Cleanup is also a snap. My in-laws loved it so much we gave it to them and ordered another one for us. A MUST-HAVE in every kitchen.
July 8, 2014
Hubby & I saw these used at a breakfast fundraiser for our church & knew we HAD to get one for at home. Makes totally awesome waffles!!!
July 8, 2014
Makes perfect waffles!!
My husband may not like this product as much as I do because I am constantly making him make me waffles with it! It is so amazing and creates perfect waffles in minutes! Easy to use and clean. would definitely recommend! :))
July 6, 2014
Works great & makes perfect waffles!
I've had this waffle maker for 2 years now. The waffles come out perfectly golden brown, a little crisp on the outside & tender & moist inside. A friend bought the same waffler and complained that the underside of the waffles were not done, but the tops were. I told them to return it for another one because theirs was defective. They exchanged it and now love it, too. So, QC is not perfect at Waring, but if the waffler is working properly the waffles are wonderful! Cleanup is really easy. The best waffle mix I've found is Carbon's Golden Malted Pancake/Waffle mix. I've never used it for pancakes but they make fantastic waffles.
July 2, 2014
Delicious Waffles!
We have friends that have the single waffle maker, and loved their waffle breakfasts. We decided we needed one and discovered the double waffle maker. The waffles make in just minutes, and come out perfectly. The best waffle maker we have every had.
June 23, 2014
AWESOME!
Really glad I have this item! Fairly easy to use and easy clean up.
June 3, 2014
Spectacular waffles
We've been making sour dough, buttermilk waffles so far. We used coconut oil for the oil required in the recipe. They are the best waffles I've ever had!! They come out crisp on the outside, fluffy and soft on the inside. We use a heaping scoop of the batter and cook on just below the 4 on the settings. They pop out with no effort, never stick to the machine. We used a tiny bit of butter brushed over the plates. I don't think it's necessary, but we did it for the taste. Perfect waffles every time!!
April 27, 2014
(
9

Questions
 : 
19

Answers
)
Ask your questions. Get answers from the community.
Ask your questions. Share your answers.
Related Searches:
Similar Products: