Waterpik® EcoFlow™ Fixed Mount Chrome Showerhead
It features five spray modes so you can choose your favorite sensation: full body coverage, concentrated fan spray, misting, circular massage with mist, or circular massage.
It even has a fingertip pause control to use when shampooing, conditioning, or shaving.
Measures 8 1/2" H x 6" W x 4 1/2" D.
Showerhead flow rate is 1.6 gpm (6.0 L/Min.).
SKU # 16170810
Waterpik EcoFlow ShowerHead
The perfect shower changes the way you feel. Experience the power where you need it, when you need it. Introducing the Waterpik EcoFlow showerhead. The EcoFlow delivers the Waterpik experience of a full powerful shower, while using 40 percent less water. Waterpik's patented OptiFlow system delivers more power per gallon of water than any other leading brand. Choose invigorating jets to wake up in the morning. The circular massage will refresh you any time of the day or night. Or relax before you go to bed with the mist setting. There's even a setting so you can save even more water while you take care of the little things. The Waterpik EcoFlow gives you all the Waterpik advantages of style and power, but you use less water. So you feel great, save money and save water. The new EcoFlow showerhead from Waterpik. Treat yourself.
Waterpik® EcoFlow™ Fixed Mount Chrome Showerhead
3
4
sad to say
But this problem is not limited to this particular shower head. They are all made with a device to curb water flow. Per the regulatory commission. Removing said device is a no no. But I have heard some people have done this. Personally I think standing in the shower longer to make certain all the soap and shampoo has been rinsed off because of the slowness of the pressure defeats the original idea of water conservation.
May 13, 2013
Cleanliness over Comfort
Lots of style; great price; well-made, but not enough water pressure!
February 13, 2012
Slow
Didn't like...the power was way too soft, the message part didn't really message because of the weakness.
October 26, 2011
Related Searches:
Similar Products:
Waterpik® Ecoflow™ Power Spray Chrome Handheld Showerhead
Price:
$44.99
Brand:
Waterpik
Categories:
Bed & Bath > Bath Hardware > Shower Heads
Thanks to Ecoflow™ technology, the Waterpik® Power Spray shower head delivers superior performance while reducing water consumption by as much as 50% without compromising water pressure.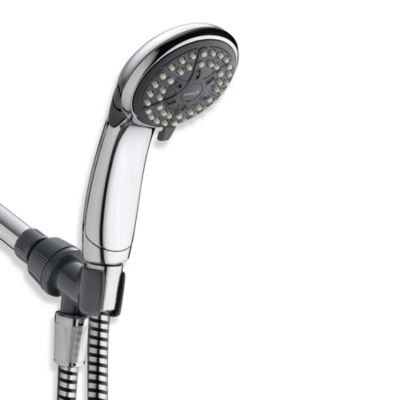 Waterpik® EcoFlow™ 3-Mode Hand-Held Water-Saving Showerhead in Chrome
Price:
$29.99
Brand:
Waterpik
Categories:
Bed & Bath > Bath Hardware > Shower Heads
The EcoFlow™ showerhead's exclusive water pause toggle switch reduces water flow and can save you money on energy and water costs. With this convenient push-button you can easily conserve water while you shampoo, condition or shave.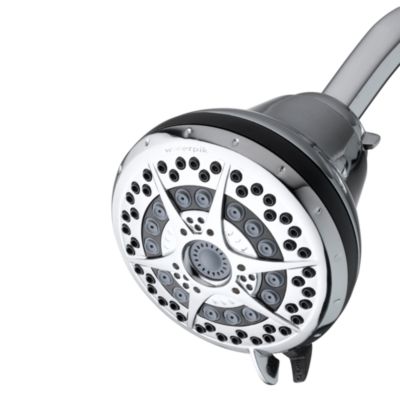 Waterpik® 14-mode Chrome Riata Fixed Showerhead
Price:
$29.99
Brand:
Waterpik
Categories:
Bed & Bath > Bath Hardware > Shower Heads
The Waterpik® 14-mode chrome Riata fixed showerhead offers total customization. Use the water-volume control to dial the power up or down, in any mode, to find the perfect spray.
Also check out:
$10.99

Exclusively Ours

(15 Reviews)
$29.99 Each
Oversized
(26 Reviews)

$9.99 - $14.99
(9 Reviews)

$10.99

Free Standard Shipping

(146 Reviews)

$19.99 Each

$9.99 Each

Clearance!

(3 Reviews)