Waterpik® Elite™ Twin Turbo Hand Held Showerhead
Waterpik Elite Twin Turbo Handheld Showerhead features 6 unique spray settings
OptiFLOW® technology provides up to 30% more water force
Lifetime manufacturer's warranty
Model DSL-653
Showerhead flow rate is 2.5 gpm (9.5 L/Min.)
SKU # 14957634
Waterpik Twin Turbo Handheld Shower Hea
The perfect shower changes the way you feel. Experience soothing relaxation in your own private spa. Introducing the Waterpik Aquascape ultra.
With the Auqascape Ultra the Waterpik design team has created a shower with a simple easy to use fingertip mood selector allowing you to choose the shower that's perfect for the way you feel.
The new Aquascape ultra, the perfect combination of style and performance from Waterpik. Treat yourself better.
Experience the power where you need it, when you needed with Waterpik shower head. And if it's pure power that you're looking for in a shower the Waterpik twin turbo head delivers. Select the power mode for the way you feel, then prepare yourself for a totally new kind of shower experience.
The extra power is created by Waterpik's patented Optiflow system which is engineered to increase the water force by up to 30%. The new Twin Turbo - power, style and performance from Waterpik. Treat yourself better.
Introducing the Waterpik Ecoflow Shower Head.
The Ecoflow delivers the Waterpik experience of a full powerful shower while using 40% less water.
Waterpik's patented Optiflow system delivers more power per gallon of water than any other leading brand. The Waterpik Ecoflow gives you all the Waterpik advantages.
Waterpik® Elite™ Twin Turbo Hand Held Showerhead
12
17
Looking for a power driven showerhead? This is it
Without a doubt this is the ultimate Waterpik hand held showerhead. It is a proven bathtub receptacle that bursts pulsating/massaging jets of water for a more vigorous and cleansing shower experience. It makes showertime more and more therapeutic especially for those who need this chrome showerhead to relieve their tiring wan acking muscles. It features six spray attachments either you prefer more pulsating sprays or relaxing calmer ones. You'd feel rejuvenated and totally relaxed from head to toe after every shower and I'd recommend this product to anyone who needs a more powerful and productive showerhead :-)
September 25, 2014
Love it!
I love the shower with this. Lots of settings. Only thing I was a bit disappointed in was that the description said chrome, so I was expecting the head to actually BE chrome. It is actually chrome colored plastic. I think they should change the description to chrome color, as it is a bit misleading.
April 24, 2013
Do Not Buy This
I remember when Waterpik was known for quality. The DSL-653 showerhead has the worst hose imaginable. It is incredibly stiff, prevents proper positioning of the showerhead in my stall shower, and knocks everything off the shelf when I use it handheld. The showerhead works well, but this unit needs a nice flexible hose, like my old Sharper Image showerhead.
April 16, 2013
Easy Installation!
I installed this myself, and it was so easy! No tools; no leaks. The water pressure is great. I just bought another one for my other bathroom.
December 28, 2012
I bought this for a gift and the person I gave it to was so pleased and can't wait to install it.
December 28, 2012
This was a great purchase
I really love this Waterpik twin turbo hand held showerhead. First of all it was easy to install,It took no time at all.I took more time trying to decide which water function I wanted to use.When I get out of shower I feel very refreshed. It was a great buy and a great price.
December 26, 2012
Thrilled
This product is everything I have been looking for for over 30 years. tried more than 15 and nothing has made me happy. This one does. I have poor water presure but using this product, no one would believe it. One of the design features that was unexpected are groves in holding fixture that allows me to position the hand held part fully into the holder, or partially at a few different places. This allows me to aim the water where I want it while standing or sitting. I have been using it for 3 months and couldn't be happier. So much so that I have purchased another one for when this one dies (they all die so to speak). I don't want to risk the discontinuation of this model. Maybe I better buy a couple more.
August 5, 2012
Excellent product
Easy to install, everything works the way it says, the only one thing I would have wanted is a longer cord, other than that, it's great.
March 7, 2012
Related Searches:
Similar Products: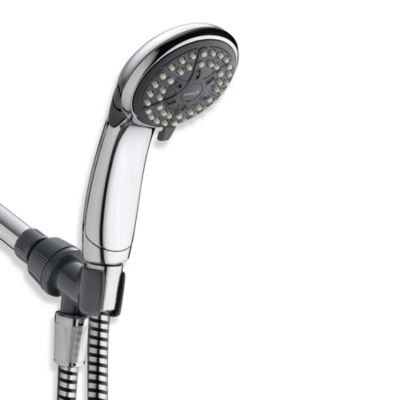 Waterpik® EcoFlow™ 3-Mode Hand-Held Water-Saving Showerhead in Chrome
Price:
$29.99
Brand:
Waterpik
Categories:
Bed & Bath > Bath Hardware > Shower Heads
The EcoFlow™ showerhead's exclusive water pause toggle switch reduces water flow and can save you money on energy and water costs. With this convenient push-button you can easily conserve water while you shampoo, condition or shave.
Waterpik® Twin Turbo™ Brushed Nickel Showerhead
Price:
$29.99
Brand:
Waterpik
In a stylish brushed nickel finish, this intricately designed fixed showerhead will make an attractive and functional addition to your bathroom. The showerhead features 6 spray settings and dual massage to soothe and massage muscles.