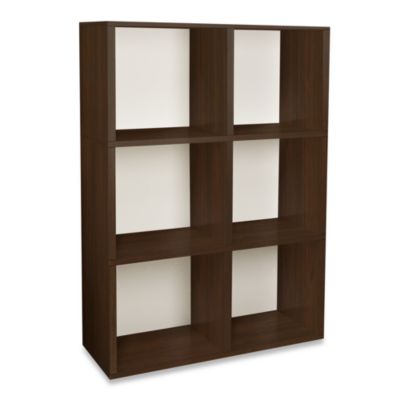 Way Basics Tool-Free 3 Shelf Tribeca Bookcase and Storage in Espresso
Bookcase can also act as a space divider in any room
Divider boards can be configured any way you like to customize your storage and style
Sustainably made from zBoard, a durable recycled paperboard that is non toxic and earth friendly
Enjoy the world's easiest tool-free assembly: just peel, stick, done!
Backer board required for assembly
Measures 45"H x 32"W x 11"D
Recommended max load per shelf: 20 lbs.
SKU # 17151096
Way Basics Tool-Free 3 Shelf Tribeca Bookcase and Storage in Espresso
9
9
Tool Free Shelving Easy Assembly
This shelf is really easy to assemble. It took me about 1/2 hour to complete. It finishes with no holes showing. It has a paper/cardboard backing. It is a material that needs to be wrapped with an edging cover which is a plastic wood grain look finish. Functionally perfect for my need.
February 3, 2014
I love this bookcase...great price
I ordered this shelf for my son's room. I was skeptical at first but after reading several reviews and watching the how to I decided to take a chance. When it arrived my husband and I put it together and followed the instructions making sure to let it sit for 24 hours and putting all the pieces together including the back board. We were able to put it together in less then 30 minutes. We decorated it with wall clings and it holds his books and little toys. We decided to divide the bottom two shelves and on the top shelf we placed the center board facing front creating a hiding cubby and a face to decorate. Way Basics states this bookcase can hold up to 100 pounds each shelf if the center board is placed in the center of the shelf and 25 pound if the shelf is left out all together. That is another nice feature about this shelf...you can change the center boards around and creat a different look. The shelves are very sturdy and are holding quite a lot of weight, but the corners dent easy due to the material they are made of. Also the covering is easily chipped so be careful moving your shelves. All in all I like the bookcase so much I purchased another unit as an end table for his room, the price is right and it serves the purpose. We had no problem with the unit falling apart.
May 21, 2013
Easiest piece of furniture to build
I bought this bookshelf when I had my baby to put in his room to store books/toys. It was extremely easy to put together. It only took me 10 minutes total! I have bought all sorts of bookshelfs/storage units in the past from places like Ikea/Target/Walmart....not only was the way basics shelf a lot easier to assemble, but it is also extremely sturdy. (right now I have a lots of books on each shelf) and it has lasted me about 1-2 years so far. Actually, I ended up buying a second shelf for my own bedroom! I would highly recommend this product...especially since this company makes products that are made from recycled materials and everything is easy to put together.
May 19, 2013
Great innovation
I've owned this unit for about 5 months now and it has far exceeded expectations! It is situated in a medical office, holding toys for children to play with, where toys are constantly being taken off, put (thrown) back on, and it's held its structure well without any blemishes, as there are no ""wood chips"" or nicks. And the bookshelf itself has enough weight to hold itself up without risk of tipping. Assembly was very simple, the biggest challenge was just aligning the different pieces, but it took about 15 minutes with no tools. Everything has ""stuck together"" the unit has been well admired from parents to college students as the rich espresso color has complemented my more ""traditional"" furniture. I'm not sure how much weight it can bear, but I have placed heavy wooden puzzles, a wooden doll house, building blocks, etc, without any warping whatsoever. I am planning to add their small table and cube chairs soon to allow kids to draw and play games on. Again, I am very impressed with the quality, durability, and most of all, its resilience!
May 19, 2013
Awesome Eco Friendly Furniture
It's so great I just had to review again! I bought this Tribeca because my old bookcase collapsed. Like the Cube, it's really strong. I have tons of books on there and it has withstood all the weight. Definitely love their products.
May 16, 2013
Paper?
I was amazed that this was made from recycled paper...I would have thought it was particle board. Went together in a snap.
October 30, 2011
cheaply manufactured
If you never have to move this shelf ever again in your life, then maybe it will work fine for you. The double-stick tape assembly makes it impossible to move. I can't imagine what will happen when we move to a new town next year! Also, pay attention to the 20lb recommended weight for the shelves... even though the shelves are nice and big, definitely don't put large, heavy books on it! I broke down the box and assembled the shelf before I realized it's problems, so I don't think they will let me return it.
September 26, 2011
very cheap product!!
Wow! Was I surprised. Pay attention to the "eco-friendly"! You are basically getting something that is near the weight of 3/4" styrofoam covererd with contact paper. You just peel and stick the whole thing together with 3M double sided tape. I knew it was compressed product, but expected something like particle board, not lightweight paper product. It looks like I described as well...no disguising it! I'm just so disappointed that I spent $100 for this item...what a fool. Had I not already torn the box to shreds and needed the product right then (for a dorm room for son), I would have returned it.
August 3, 2011
Related Searches:
Similar Products: