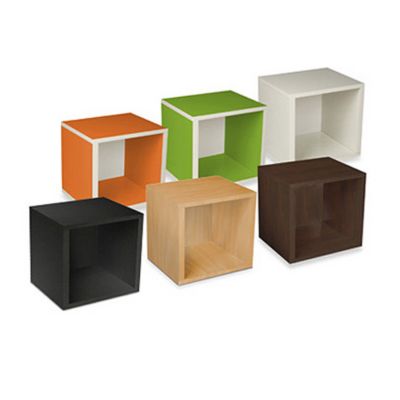 Way Basics® Tool-Free Storage Cube
Mix and match colors, buy four or six and stack them in creative configurations
The Cube is made from zBoard, a durable recycled paperboard that is non-toxic and earth friendly
Enjoy the world's easiest tool-free assembly: just peel, stick, done!
Backer board required for assembly
Measures 12 1/2"H x 13"W x 11"D
Recommended max load per shelf: 50 lbs.
Way Basics® Tool-Free Storage Cube
15
15
very cheap and flimsy. not worth $20
this item is very cheap and flimsy. it's basically made of very thick card board with double sided tape. not sturdy or secure. if you put 3 text books on top, it will fall apart. super surprise BBB would carry such a bad item.
August 27, 2014
white storage cube
t This is one of the most flimsy, overpriced storage cubes ever. If you make an error in lining anything up, you are doomed, because you can't reposition the sides without messing up the whole project. It wobbles and you should be ashamed of yourself for even carrying this product.
July 4, 2013
Sounds like a cool concept, but.......
I got them thinking I could hang them, and then I assembled them (quite easy) and I waited awhile for it to stick, but obviously not long enough, because what was in them made them fall apart real quick. I wind up keeping them since they haven't fallen apart. But not pleased with not being able to hang.
January 18, 2013
Storage cube disaster
This is a flimsy piece of cardboard which collapsed and broke once I assembled it. I have several other black storage cubes from 10-15 years ago, and hoped to duplicate them, but no. This product is instant garbage, I'm sorry to say. Buyer beware.
January 14, 2013
Perfect. Perfect. Perfect.
"The cubes look amazing and are REALLY simple to assemble. The ability to add or remove, alternate colors, etc. makes them even more useful! I would suggest these to anyone looking to conserve space while creating a great looking environment. The instructions are really short, quickly review them, and you'll have these put together within minutes. The construction is very sturdy and the 3M taping portions are surprisingly strong. Save money, create a better looking space, and do it easily!"
October 31, 2011
What I wanted
The product took me twice to assemble, but I wasn't careful at all the first time. I just wanted something that would help organize a dresser top and this did the trick. $20 and no shipping is probably a bit pricier than what you could get the wood and assembly supplies for at a hardware store, but this is immensely more convenient for a college student. Eco friendly and fast delivery too. What more could you ask for.
October 31, 2011
Great price, easy to assemble
These are great to use as shelves and storage. The assemble using double sided tape. I was a little concerned that they'd be weak and hard to put together, but trust me--they're strong and couldn't be easier to assemble. I got the espresso color and they look great on the hardwood floors in my office. Great product!
October 30, 2011
Great item for the price
We just received 2 of these cubes today. They were quick to put together (hubby did it). We replaced some blond small foot stools we were using for speaker stands with these. The speakers are walnut wood and the brown cubes have a walnut pattern on them so it is a perfect match. Huge improvement in our living room for a small price. You won't be sorry if you buy these.
October 30, 2011
Related Searches:
Similar Products:
Also check out:
$59.99

Beyond Value

(37 Reviews)

$14.99

Beyond Value

(40 Reviews)

$5.99

Beyond Value

(19 Reviews)
$9.99 Each

Beyond Value

Exclusively Ours

(32 Reviews)

$6.99 - $9.99
(9 Reviews)