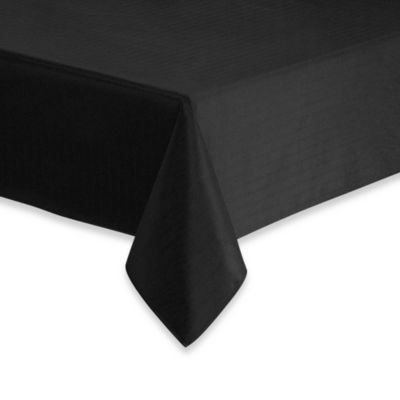 Windsor Stain Resistant 70-Inch x 84-Inch Oval Tablecloth in Black
The Windsor Stain Resistant Tablecloth features a handsome herringbone design, making it an easy coordinate with any tableware pattern or occasion
Since it's stain resistant liquid spills simply bead up, letting you easily wipe them away
57% cotton/43% polyester
Machine wash
Imported
Napkins measures 18" x 18" and are sold separately
SKU # 15819340
Windsor Tablecloths
Hi. I'm Kara from Bed Bath & Beyond, and I'm here to talk to you today about the Windsor Stain-resistant Tablecloth, Napkin, and Placemat. This tablecloth is stain-resistant and easy to care for. Its unique construction means spills bead up and do not leak through. The subtle herringbone pattern makes a perfect choice for formal or casual dining. It's available in assorted colors and sizes, including wide widths. Coordinating napkins and placemats are also available.
The easy-to-care-for fabric allows me to have a great-looking table without having to worry about spills and messes. I love that my table looks as good at the end of the meal as it did when we started.
Watch what happens when I spill some red wine. Spills bead up. You can just wipe it with a dry paper towel or a damp cloth, and you're all ready for your next meal.
The Windsor tablecloth, napkins, and placemats are available online and at a Bed Bath & Beyond store near you.
Windsor Stain Resistant Tablecloth
14
17
Great value
I'm pretty happy with this purchase. Looks clean, and easy to clean.
September 12, 2014
Nice Tablecloth
The tablecloth was very nice. Its exactly what I was looking for but unfortunately I had to return it as the size turned out to be too big.
September 8, 2014
Purchase hit a snag (actually two snags)
We have been buying these tablecloths for some time and they wash up nicely and look nice. This purchase was an exception but I wanted to remind people to look closely for snags.. this one had two of them. But the local store had them in stock and gratefully exchanged it. The new one looks perfect.
February 27, 2013
Liked it
i liked the tablecloth & would have kept it if I would have ordered the correct size.
January 18, 2013
Stunning color, easy to clean
Since we enjoy more earthy and jewel tones, my husband and I are thrilled to say that this tablecloth is perfect. Easy to clean and iron when needed. Plus the color is just stunning.
September 10, 2012
Nice tablecloth.
I ordered this tablecloth for our dining room table which is 4 feet wide....I have to have at least 70" wide linens. I wanted a white cloth, unfortunately this is NOT the crisp white that I was expecting. It is OK, but if you want a stark white keep looking. It does launder great, doesn't have to be ironed.
April 18, 2012
Serves its purpose
Good quality however the price still seems a bit high
February 29, 2012
BEST TABLECLOTH
I'm so happy with this product. It doesn't stain and when something spills on it, the liquid beads up. Very cool.
January 18, 2012
Related Searches:
Similar Products: