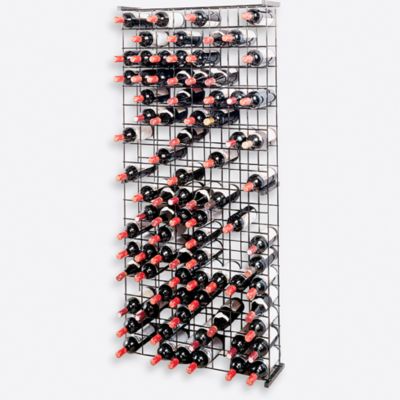 Wine Enthusiast 144-Bottle Metal Grid Wine Rack
Practical, affordable, and thoroughly sophisticated, its minimalist design makes it suitable for the living room or dining room as well as the wine cellar.
This sleek, black epoxy-coated wine rack grid allows for individualized storage and easy access.
Holds up to 144 bottles.
Measures 66" H x 30" W x 8" D.
One-year warranty.
SKU # 16091391
Wine Enthusiast 144-Bottle Metal Grid Wine Rack
6
6
Everything
I have looked at several and finally chose this one... I wish the company would produce another one with larger wires for larger bottles .... my only complaint is the screws did not have wing nuts to hold it in place... but those were very easy to find... overall GREAT.... Always remember what someone likes another may not ... for our use this is once again GREAT!!!!!!!!!!!!!!!!!!!!!!!!!!!!!!!
March 12, 2014
Not a bad rack!
OK, so I read the reviews, studied the fine print and decided to give it a try as the price was very tempting. After receiving the rack, I un-boxed and looked at the various parts. I first put the front and back racks together, very simple, just besure you have the 3 extensions fully positioned into the coupling and tighten the screws. Next, after looking at the hardware, I agreed too that it is a bit weak and besides is positions the racks at 5.5" apart instead of the 7' standard. At this point I put their hardware aside and designed/built a simple cabinet with birch plywood that was a glove fit for the two racks. I also had a 20" side cabinet that I put shelves and another smaller rack for additional storage. I fastened the 2 grids in place with black nylon cable clamps that you can find at the hardware store. The cabinet was 12" deep, 69" high and 50" wide. I stained it to match the wood work in our home and put it in the wine closet where it again was a glove fit on a 52" wall. Turned on the wine cooler which was set at 59 degrees and a day later, the party started. Too bad I can't attach a picture so others could maybe get some ideas....the grids are fine, the brackets are probably functional but not optimal. I'm now designing another cabinet for an additional rack as this one may not quite hold the quantity that I want to carry!
July 8, 2013
Enthusiastic About Wine, Not the Rack
I ordered online, in-store. Upon seeing the web picture I believed this to be a narrow free-standing rack. I didn't expect fancy at this price but had hoped for sturdy and easier to mount. Am using the rack in my basement. My husband is very handy and a carpenter by hobby and still our wall got damaged installing this really cheaply made rack. The brackets do not fit well to the grids they are supposed to hold. The screws were of poor quality and strip easily. Making everything line up so the brackets actually hold the grids to the wall is challenging at best, requiring 2 people. It is difficult to screw the brackets into a wall because the grids get in the way of the screwdriver. Even using an offset would be of no use. I have no fault with the grid racks themselves. The fastenings and other hardware though are poorly designed. This unit MUST be anchored to a wall and the instructions inside the box do clearly state so, but the web description should include this rather crucial fact. I will keep the rack, but may go back later and create some hardware myself to hold the grids together better. For $99 I did expect something a little better. I believe I could have made a sturdier model myself for about $15 in materials. It's unfortunate because conceptually, this wine rack is a cool idea.
May 11, 2013
Excellent value
This is the third one of these wine racks I have purchased, I have read many negative reviews about them. I can't believe it. I am influenced by people's experiences and put a lot of stock in their opinions. However, in this case, those that are negative are just plain wrong. Please ignore them or you will miss out on the best value wine rack, period. It does take an hour or so to assemble. Once it is assembled, it is very sturdy. I would suggest you assemble it on a solid floor surface. There are three things I wish the manufacturer would consider to improve their product. in the future. 1. It does not fit some large burgundy style bottles or some sparkling wine/champagne bottles. This is not a big deal, though. In my case, I have over 400 bottles of wine and only 4 or 5 won't fit in the slots. 2. It holds eight bottles in each row. It would be nice if we could choose a model which held 12. 3. Make the assembly instructions a little more detailed and explicit which would shorten the assembly time. If you are a wine enthusiast, buy this product and enjoy it for many, many years. Cheers!
November 8, 2012
Don't even think aabout it
First, I note that the BB&B website seems to make a concerted effort to "hide" any reviews that may exisit for a product - it seems you only get to see/read them the first time you view an item. Second, I agree with the other review posted here - these are without doubt, proven beyond reproach, absolute JUNK. They are $10 worth of cheap wire mesh. To make matters worse, the BB&B website does not tell you that, to even consider using these, they must be bolted to a wall (they will not stand up on their own). Are you kidding? The website further misleads because they show a "photoshopped" photo of an apparently "freestanding" unit. What happened to the wall? I bought two of these and have never felt so ripped off. They arrived today and I will be returning them tomorrow!
February 16, 2012
Biggest worthless JUNK
The picture and description does not show that you have to assemble four flimsy metal grids (two for the backwall and two for the front) with six small brackets that you "must" mount to a wall or it will not hold together. This is CHEAP metal rods made in China. I would not trust placing 144 bottles or even half onto that so called shelf. It is the cheapest junk I have ever purchased. Don't buy it !!! I returned mine for a refund.
February 17, 2011
Related Searches:
Similar Products:
Also check out:
12 Piece Set $19.99
(2 Reviews)

$19.99 Each

Beyond Value

Exclusively Ours

(26 Reviews)
$14.99
Oversized
(1 Review)