"Wine Enthusiast 4-Piece Quicksilver Wine Opener" Is Not Available for Sale Online.
We have provided the content below as informational. Please view additional items Customers also viewed.
Related Searches:
Similar Products: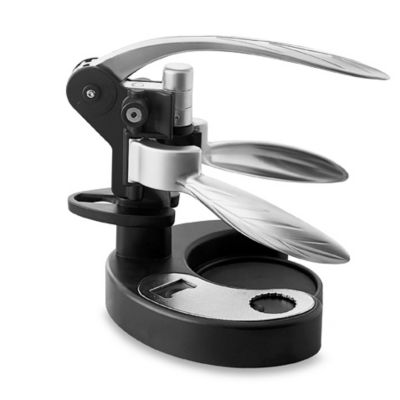 Wine Enthusiast 4-Piece Quicksilver Wine Opener
Customers Also Viewed
$12.99

Exclusively Ours

(25 Reviews)
Frequently Bought With
$24.99 - $29.99
(57 Reviews)

$14.99
Oversized
(2 Reviews)

$49.99 - $89.99
(11 Reviews)

$4.99

$2.99

Clearance!

(2 Reviews)

$4.99

Beyond Value

(14 Reviews)

$29.99 - $69.99
(35 Reviews)

$10.99

Free Standard Shipping

Exclusively Ours

(153 Reviews)
It makes the perfect gift.
Set includes corkscrew, foil cutter, wax remover and a display base that doubles as a wine bottle coaster.
Four-piece set.
One-year warranty.
SKU # 16161926
Wine Enthusiast 4-Piece Quicksilver Wine Opener
8
8
great product
I've had this opener for at least three years. It easily removes a cork from ANY wine bottle- in one piece every time. It stores easily - and sits on a counter in the stand as well. The foil remover should be used to prolong the life of the opener. Its a great gift - and exceptional product.
April 22, 2013
Love this wine opener!
I've had this wine opener for about three years and love it! It is so easy to open a bottle, no straining and no broken cork.
November 30, 2012
Owned for 7 years!
I have no idea what these other reviewers are talking about, but we received this wine opener as a gift 7 years ago and it still works just fine! We are wine drinkers so this gets more-than-average use. The foil cutter in it is a great bonus - couldn't get along without it! The display base was unnecessary for us...we don't display this tool, it's stored in a drawer, so the base was tossed long ago. We would recommend this item!
November 29, 2012
waste of money
work for me 4 months, then stop working, poor design and quality.
May 5, 2012
Lightweight
I purchased one of these and gave it to my friend for Christmas last year. She used it maybe once or twice a month. It broke on Halloween. I'm getting her a battery operated one that will hopefully outlast this one.
November 27, 2011
Do not recommend
The corkscrew metal snapped after very few uses and, though it may have been an individual fault causing 'metal fatigue,' I will not buy another like it.
July 21, 2011
I've had the same wine opener for over a year & never had any problems. It works great!
July 4, 2011
poor choice
You get what you pay for. This wine opener appears to be of good quality, but it breaks after 2-3 months usage. I have had two of these openers break in the last 6 months. Invest in the real deal - "Rabbit"
June 21, 2011