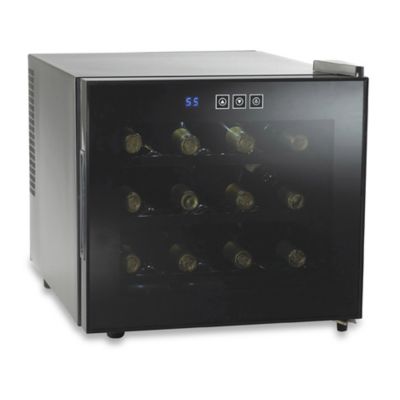 Wine Enthusiast Silent 12-Bottle Touchscreen Wine Refrigerator
Treat your reds, your whites, and yourself to the new generation in wine storage.
Silent thermoelectric cooling system has no moving parts and is CFC-free, meaning that you get silent, long-lasting, and environmentally safe refrigeration for your collection.
Features a 12-bottle capacity, a temperature range of 50 to 66° F, exterior digital touchscreen with display, three pull-out chrome shelves and interior LED lighting
Shelving is meant to hold standard 750 mL size bottles
To store larger bottles you can easily remove any of the shelves
Free standing model needs to vent in an open area
Measures 15 1/2"H x 15 3/4"W x 20 1/2"D
ETL approved
Model # 272-03-12
SKU # 16889431
Wine Enthusiast Silent 12-Bottle Touchscreen Wine Refrigerator
7
7
Best Bar Shower Gift
I was recently invited to a Bar Shower. When I saw the Wine Enthusiast Silent 12 Bottle Touchscreen Wine Refrigerator I knew it was a perfect gift for this gift giving occasion. When the future bride opened the package, which was the largest gift in her pile, she was genuinely thrilled. Her mouth hung open and eyes were wide with excitement. The bride never expected a wine refrigerator to be so elegant. She loves the touchscreen thermostat but was more excited by the smoked-glass door. It does not look like every other appliance and she says it will look outstanding with her decor. I can't wait to attend a party at her new home after the wedding and bring her a bottle of her favorite wine to store in her new Wine Enthusiast Silent 12 Bottle Touchscreen Wine Refrigerator. Her thank you note stated it was the best shower gift she has received.
August 4, 2014
Nice Product
This product had all the features that I wanted. It does make some noise but that doesnt bother me. It arrived faster that I expected. I am pleased with this product.
March 24, 2014
Don't purchase this one
I thought Wine Enthusiast endorsement would mean that this is a great product. Unfortunately, this is not the case. I drink chardonnay most of the time, and chardonnay bottles don't fit in this fridge. Any bottle that is larger in dimension will not fit between the shelves, and if you can shove it in, you can only get 2-3 of the 4 slots filled. To pull out the shelves to remove the very tight bottles of wine, you have to swing the door ALL the way open, not to a standard 90 degree angle as you would expect. To find a place to put this item with that type of open swing is a challenge. Don't waste your money; buy a different brand and check that wine fits inside of it before you purchase. I have to sell this one and spend the money again to buy a new one.
May 28, 2012
Good little cooler
Take the other reviews with a grain of salt. This cooler is a tight fit, I agree, but it has plenty of depth from my experience. I can fit the "long" bottles (13" tall) just fine, with about 3/4" to spare. Width is where it's tight. Any bottle with an abnormally wide base will need to be put on the top shelf, and it'll probably rub the interior roof of the cooler, but they'll fit. Really wide based bottles, such as those often used for port, will not fit. Most sparkling bottles will not fit either. If the unit ever loses power, even for just a second, it will reset to 56* when power is restored. It would've been nice if it had a temporary memory to remember your temperature setting.
January 8, 2012
Almost perfect
Bought this for my daughter as a Christmas gift. Would be perfect if we could adjust the door opening so it opens from the other side (from the right instead of the left), and also if the shelves were adjustable.
December 28, 2011
Standard sized bottles are still too long for this refrigerator. The door does not close all the way. And any bottle with a wider bottom will not fit on the shelves. The shelves are removable, but then what is the point of buying a 12-bottle wine refrigerator?!?!?! Better to spend the extra $$ and get a few extra interior inches to actually fit the bottles!!
November 8, 2011
Basic Interior Design Flaw
This refrigerator looks great, but the interior design is too tight to accomodate many of the latest bottle sizes. I can barely cram 12 bottles in it; and if one of the bottles is oversized, forget it. A few more interior inches would make all the difference. Surprised a company like Wine Enthusiast would not be clued in on this.
December 6, 2010
Related Searches:
Similar Products:
Also check out:
$19.99 - $39.99
(26 Reviews)
$12.99

Exclusively Ours

(2 Reviews)

$19.99

$11.99

Clearance!

(1 Review)