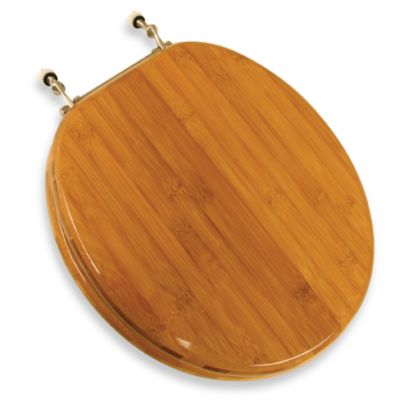 Wooden Bamboo Rattan Round Toilet Seat
Measures 16" L x 14 1/2" W and fits standard toilets.
1-year limited warranty.
SKU # 16996700
Wooden Bamboo Rattan Round Toilet Seat
9
10
Well made, nicely finished
I was very pleased with this item. Layers of bamboo with wood are very nicely designed and assembled in a way that accentuates the beauty of the bamboo grain. The "piano" finish is high gloss, and that actually led to the return of the first item I had purchased, because even the slightest mishandling during shipping will leave a noticeable and permanent scar. The replacement, however, was fine. Hardware is nicely finished as well, and is a perfect match for all the other brushed nickle hardware in that bath.
October 16, 2013
LOVELY SEAT!
THIS SEAT IS VERY NICE, VERY COMFORTABLE, AND VERY EASY TO INSTALL. IT REALLY JAZZES UP MY TROPICAL BATHROOM!
September 16, 2013
Right choice
Even though this item was not available in the store and had to be sent to my home, I knew that this was the toilet seat I wanted for sure. And, for sure, it is the one. Beautifully made and comfortable in hot or cold weather, this is a great choice to make your bathroom special.
June 6, 2013
Usable
+ Wooden, not wood. Feels like laminated plastic. Serves the need, not as attractive nor sturdy as the wood one that it replaced Function 3 stars, quality 1.
May 30, 2013
Gorgeous
I purchased this for the second time because someone slammed the cover down really hard & it cracked. But it's very durable and absolutely gorgeous. I get a lot of compliments on it.
March 14, 2013
hinges are solid
All of the seats at home depot have single plastic hinges, that break easily. This product has the solid brass type that seems to hold up better. Plus the finish is almost a resin for easy cleaning.
December 27, 2012
Great Toilet
This is a beautifully made toilet seat and very attractive looking. I have a yellow bathroom and it goes excellent. I would recommend to other people
July 14, 2012
Beautiful!
I wanted a wood toilet seat, and this looked terrific on line so I ordered it. When it arrived, I was so surprised to find that it was so much nicer than the picture. It has a piano finish, apparently with many coats of lacquer. Installation was very easy. It is truly beautiful.
April 25, 2012
Related Searches:
Similar Products: