Wusthof® Natural Large In-Drawer Knife Organizer
Wusthof® Natural Large In-Drawer Knife Organizer features an unique, efficient wave design that makes knives easy to remove, plus it saves valuable counterspace by storing in your drawer
Large knife organizer measures 17" L x 9" W x 2" H
Holds 14 knives, consisting of eight small knives, six large knives with up to a 10" blade, and a sharpening steel
Made from durable hardwood
Lifetime manufacturer's warranty
Imported
SKU # 16484261
Wusthof® Natural Large In-Drawer Knife Organizer
6
6
Doesn't get any better
I can't imagine any other way to pack in so many knives safely and accessibly. Whoever invented this understands a chef's needs.
November 3, 2014
Love it, would just like to have more holders.
I really like how it sits in the kitchen drawer and not on my countertops, this is exactly what I was looking for. But would like a few more slots.
October 16, 2014
Just what I was looking for and affordable!!
This organizer fits nicely into my drawer eliminating the butcher block from my countertop. It seems of very good quality and was price very affordably. Keeps my knives in their place, safely off the counter. Very convenient! Glad the associate at BB&B was able to place the in store order for me that delivered to our home!
September 16, 2014
Great product
Holds all my favorite knives perfectly and fits easily in my drawer.
August 4, 2014
Just what i was looking for
This is a nice way to store my knives without needing the block on my counter.
September 18, 2013
Perfect knives organizer
I have different size knives that I purchase on occasion. I usually just place them in the drawers. It's not safe and I hate it. So when I saw these, I got them and they are perfect because of the diff. size slots.
December 8, 2010
Related Searches:
Similar Products: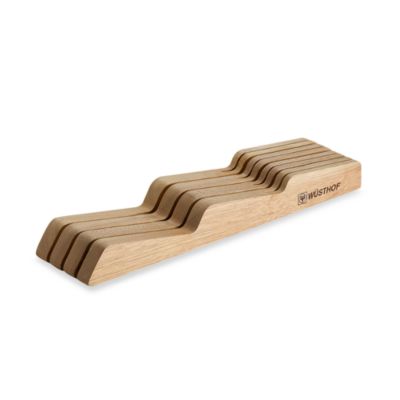 Wusthof® Natural Small In-Drawer Knife Organizer
Price:
$24.99
Brand:
Wusthof
This beautifully crafted, solid wood knife organizer won't damage or dull your cutlery, making it a safe, convenient way to store your knives.