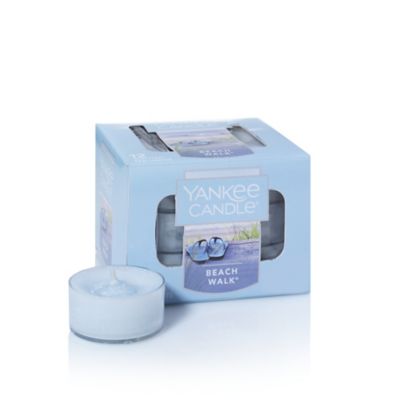 Yankee Candle® Beach Walk™ Tea Light Accent Candles (Box of 12)
Votive burns up to 15 hours.
Small jar burns up to 40 hours.
Medium jar burns up to 90 hours.
Large jar burns up to 150 hours.
Small tumbler burns up to 45 hours.
Large tumbler burns up to 85 hours and has 2 wicks.
Tea lights burn up to 6 hours each.
Wax melts burn up to 8 hours each.
3-wick candle burns up to 50 hours.
Jar wax melt burns up to 8 hours.
Made in USA.
SKU # 14946543
Yankee Candle® Beach Walk™ Tea Light Accent Candles (Box of 12)
8
8
Love it!
I have been trying different scents in the tea lights. I know I really like Beach Walk so I thought I'd try it. I like anything beachy. Love it! Will buy again.
April 30, 2013
different
Not a girly smell I have found guys like it too. I was glad to see it back his year.
March 11, 2013
strong good scent
It's a very good scent, smells very clean and fills my living room. I do not use it in small rooms are it's more 'strongly scenty' then other candled I've bought (i buy lots!)
August 20, 2012
Light and fresh!
Beach Walk is a nice clean scent that doesn't overwhelm.
July 31, 2012
Good for decorating
This candle goes great with my matching Beach Chair accessory, however when I burn several of these candles at once in my small room there is still no noticeable fragrance. I was slightly disappointed because I specifically buy Yankee candles for the wonderful scents they give off. I think the large tumblers are the best for fragrance but these are good for decorating purposes!
July 29, 2012
Beach walk review
I love the scent of beach walk, very nice, pleasant scent.
July 22, 2012
No much smell
I love yankee Candles but these to not really give out a strong smell as the larger candles, I was disappointed when I purchased them at the Wolfchase mall.
July 21, 2012
Wonderful Scent, but while burning there is virtually no scent at all
I love the scent when smelling from the box or the unlit candle, but when burning, the scent is nowhere to be found. While an Upper East Side Manhattanite New Yorker, I have always enjoyed the tranquility of the lovely, relaxing scents of Yankee Candle. I called my apartment my Sanctuary, then I lost my husband, lost my job and had to move to Alexandria, Virginia; which, I refer to as Purgatory. My heart is in New York, New York, but my budget is no longer able to afford living there. It seems something changed in the recipe of Yankee Candles and the scents no longer emit well enough to smell them as they smell before lighting.
July 15, 2012
Related Searches:
Similar Products:
Also check out:
$49.99 - $59.99
(21 Reviews)

$20.99

Fragrance of the Month

(144 Reviews)