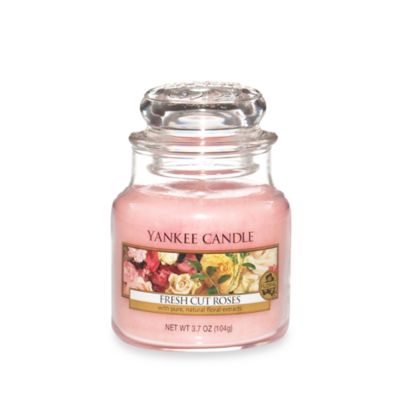 Yankee Candle® Fresh Cut Roses Small Classic Candle Jar
Votive burns up to 15 hours.
Small jar burns up to 40 hours.
Medium jar burns up to 90 hours.
Large jar burns up to 150 hours.
Small tumbler burns up to 45 hours.
Large tumbler burns up to 85 hours and has 2 wicks.
Tea lights burn up to 6 hours each.
Wax melts burn up to 8 hours each.
3-wick candle burns up to 50 hours.
Jar wax melt burns up to 8 hours.
Made in USA.
SKU # 12923007
Yankee Candle® Fresh Cut Roses Small Classic Candle Jar
8
8
Beautiful
I think this scent is the most lovely of all the flower scents that YC has. And for such a small candle it is easily identifiable in the room.
January 15, 2014
too small
the little jars are just way too small and do not give the aroma the larger size candles give off. I think If I would have bought the larger size it may have worked better. I also like to burn candles frequently and the small ones just don't last very long.
September 16, 2013
It's discontinued...
One of my favorites! I like it because my husband hates spending money for flowers, he calls them weeds, which die within a week (if you're lucky). With FCR, I can have the smell of roses any time I want.
August 14, 2013
MY VERY FAVORITE!!
Please keep this fragrance! It really smells like roses!!
June 29, 2013
Glad they brought it back - It's was my favorite
This is the best fragrance Yankee Candle has. I hope they decide to bring it back permanently
May 2, 2013
Fresh Cut Roses
I love this fragrance. This candle smells like a bouquet of roses stems leaves and all with mostly rose. I pair mine with true rose and love it.
April 7, 2013
Nothing subtle about this wonderful bouquet!
If you enjoy sitting on a warm spring or summer day smack in the middle of a large rose garden, this is the scent for you. This is a strong scent after more than an hour or two. The large jar will fill the house with the aroma of fragrant roses! I like using the small jar candle or a votive/tea light/tart. That's plenty of rose scent to last for hours, even after extinguishing the candle.
March 14, 2013
It's just like the real thing.
This is one of my favorite Yankee candles. I just love it!
March 9, 2013
Related Searches:
Similar Products: