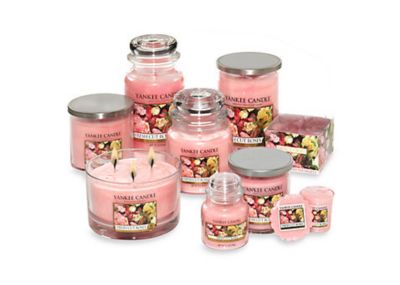 Yankee Candle® Fresh Cut Roses Votive Candle
Votive burns up to 15 hours.
Small jar burns up to 40 hours.
Medium jar burns up to 90 hours.
Large jar burns up to 150 hours.
Small tumbler burns up to 45 hours.
Large tumbler burns up to 85 hours and has 2 wicks.
Tea lights burn up to 6 hours each.
Wax melts burn up to 8 hours each.
3-wick candle burns up to 50 hours.
Jar wax melt burns up to 8 hours.
Made in USA.
SKU # 12923023
Yankee Candle® Fresh Cut Roses Votive Candle
11
12
Beautiful
Smells just like the roses from my garden, fragrant and beautiful.
September 16, 2014
I was really looking forward to this scent, unfortunately they not live up to expectations, at all.
I purchased 3 True Rose and 3 Fresh Cut Roses votives. There is no smell at all, even lit with your nose buried in it. No throw, no scent whatsoever. I do not live near a Yankee Candle store or I would return them. It's just not worth the shipping costs to send them back to you. The True Rose large jar and votive have excellent reviews. No one else seems to have this problem. What I'd like to know, do you get more fragrance from the bigger jar size candles than the votive? I have bought YC before and never had a problem. Thank you.
January 10, 2014
The best rose scent
Smells exactly like you just cut roses from your garden. Scents the entire room. My favorite YC rose scent, I hope they keep it always
January 1, 2014
Garden of Roses
I love the smell of roses. The candle is right on the door nail of smelling like roses. The pink color is very pretty and perfect. And the picture is really pretty...perfect!!! If you like roses you will like this candle. I have also burned with True Rosé which really gives a stronger smell of roses. Really like
November 16, 2013
Fresh floral scent!
I bought this as a sampler votive candle. It has a strong, sweet floral scent. You only need to burn it a bit and it leaves a strong lingering fragrance. I plan to get it in the bigger jars and candle styles!
October 31, 2013
a fav
This is one of my fav rose scents. It has more of a true rose smell then the other ones they currently have out. Hopefully they will bring it back (the stores said they have discontinued it)
September 16, 2013
10,000 fresh cut roses !!
This is true to name. It really DOES give off the fresh cut rose smell. I recommend it to anyone who WANTS their home to smell like a floral shop. A good smell for the boudoir or restroom but not exactly for the front room. Smell is quite strong.
September 9, 2013
Fresh cut roses......the BEST!!!
My all time favorite fragrance, nothing smells as good as roses!! I can light this fragrance and people smell my candles doors away!!! I've had sooo many compliments on how good my home smells....
August 28, 2013
Related Searches:
Similar Products:
Also check out:
$1.99

$0.99

Clearance!

(33 Reviews)
Queen $499.99 - King $599.99

Twin $79.99 - King $119.99
(1 Review)

Twin $59.99 - King $99.99
(2 Reviews)

$79.99 Each

Exclusively Ours

(1 Review)