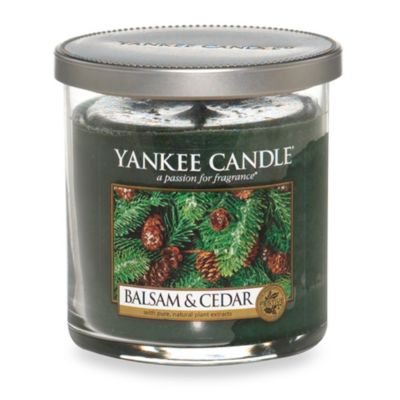 Yankee Candle® Housewarmer® Balsam and Cedar™ 10-Ounce Tumbler Candle
Create a warm, inviting atmosphere by simply lighting this candle and enjoying the delicate fragrances that only Yankee Candle® can produce
The exquisite aroma will linger long after the flame has been snuffed out
10 oz. tumbler burns up to 60 hours
Imported
SKU # 16745405
Yankee Candle® Housewarmer® Balsam and Cedar™ 10-Ounce Tumbler Candle
8
8
My favorite
soothing, relaxing fragrance. My first choice every time
September 5, 2014
Like a walk in the pine forest
The evergreen fragrance of this candle is spot on! Here in Northern Michigan we are surrounded by pine forests that are intoxicating with scent. I love bringing that scent indoors, especially around the Christmas holidays.
August 5, 2014
Holidays!
This is THE holiday scent in my home. My favorite candle for the whole month of December!
December 18, 2013
I just love this scent, remind of Christmas trees
I love your candles they keep there smell until the last bit of wax melts.
November 18, 2013
Christmas in a jar
I've always loved to weave my own balsam wreaths, and this candle fills the house with that same "it's-time-to-celebrate" fragrance.
November 13, 2013
Feels like you have a real tree.
This has that pine scent without being overpowering.
November 12, 2013
I look forward to using this.
It will bring the Christmas tree smell in without the mess.
October 11, 2013
Perfect size to keep in many different areas, that fill any desired room with a bountiful forest scent.
The size is perfect for fitting into many different areas that may not have a lot of space. Even though this seems like a small candle, the scent is enormous and fills any room, large or small, with the smell of a robust forest! This is the fragrance that has transported me to a hike in the deep woods. I highly recommend this size, and fragrance.
November 14, 2012
Related Searches:
Similar Products: