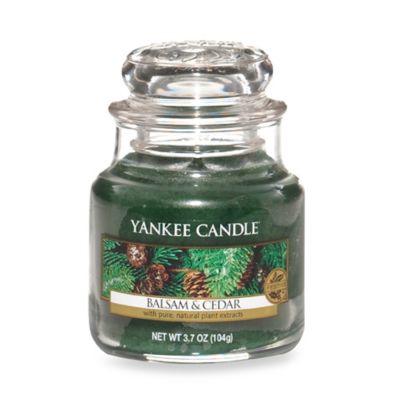 Yankee Candle® Housewarmer® Balsam and Cedar™ Small Classic Candle Jar
Create a warm, inviting atmosphere by simply lighting this candle and enjoying the delicate fragrances that only Yankee Candle® can produce
The exquisite aroma will linger long after the flame has been snuffed out
Small jar burns up to 40 hours
Imported
SKU # 16040789
Yankee Candle® Housewarmer® Balsam and Cedar™ Small Classic Candle Jar
15
15
Holiday cheer
What can I say? It's Yankee Candle! Love this scent and its great for all winter long.
January 28, 2013
CHRISTMAS IN JULYi
BALSAM AND CEDAR IS THE ONLY CANDLE SCENT THAT REMINDS ME OF FRESH PINE TREES....I LIGHT IT ANY GIVEN MONTH AND IMMEDIATELY AS THE SCENT IS WAFTING THRU THE ROOM I AM IMMEDIATELY TAKEN BY THE GHOSTS OF CHRISTMAS PAST, PRESENT AND FUTURE. IT IS ONE OF THE REASONS FOR THE SEASON.
January 9, 2014
Great smell but VERY sooty burn!
The initial bloom of fragrance as I lit this candle was wonderful, and my roomie and I love the smell of it while it's not lit, but about 20 minutes into burning it a very sooty, gross smell overpowered the Balsam/Cedar smell. I would recommend the tarts to anyone who likes this 'flavor' because it is very subtle and far-reaching scent, but I would not recommend the candle.
December 20, 2013
Love this scent
Have been buying this scent for years and I love it at Christmas!
November 3, 2013
Ultimate Christmas Scent
Balsam & Cedar is the ultimate Christmas scent. To me, it brings back childhood memories of walking through the evergreen forest, inhaling the pine scent on a cold winter day, searching for the perfect Christmas tree.
October 11, 2013
to me just not strong enough
i had to be right next to it to smell it, it is just not strong enough
October 2, 2013
Balsam & Cedar
This is my very favorite fragrance. Always makes me feel like my home's been transformed into a forest.
August 23, 2013
Great Gift
I love this candle so much that I purchased several to give as gifts! I think my friends will love it as much as I do because it smells as just as good after Christmas as it does before!!
June 13, 2013
Related Searches:
Similar Products:
Also check out:
$11.99

Fragrance of the Month

(6 Reviews)

$10.99

$8.19

Fragrance of the Month

(3 Reviews)

$10.99

$5.49

Clearance!

(7 Reviews)