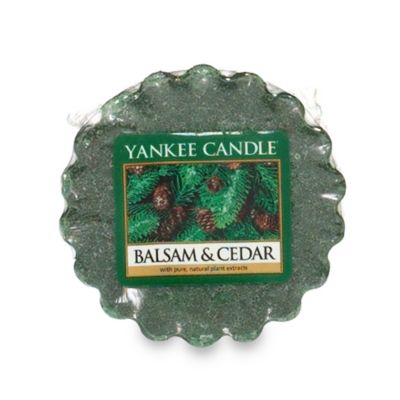 Yankee Candle® Housewarmer® Balsam and Cedar™ Wax Potpourri Tart
Create a warm, inviting atmosphere by simply lighting this candle and enjoying the delicate fragrances that only Yankee Candle® can produce
The exquisite aroma will linger long after the flame has been snuffed out
Wax melts burn up to 8 hours each
Imported
SKU # 16041440
Yankee Candle® Housewarmer® Balsam and Cedar™ Wax Potpourri Tart
38
38
Love This Tart!
This scent was one of my best purchases! I have burned 2 of them so far and look forward to burning them Christmas Day since I don't have a real tree. It will be a wonderful scent for the day however, this scent is lovely year-round.
December 21, 2011
My favorite scent!
This is by far my favorite scent of all! Lasts long and reminds me of my childhood at Christmas time. Fresh cut Christmas tree and wreathes.
September 27, 2014
Terrific scent
In the age of artificial Christmas trees this tart fills the house with the scent of a freshly cut Christmas tree. I use it all winter not just during the holidays. It is very strong (which I like) and lasts all day and night.
September 8, 2014
Reminds me of my childhood
This smell reminds me of 3 days before Christmas when my Dad would bring in the fresh cut tree to sit for a few days before he would do the lights and we'd decorate it on Christmas Eve. Love it!
July 12, 2014
its a miss for me
Im a fan of christmas and holiday smells and I ordered a bunch of these thinking i was going to really love it from all the what i read. But unfortunately for me it smelled like incense something really similar to Christmas Wreath scent which was a weird odor to it like cat urine and i don't own a cat.. soo I really wanted to like it , but it didn't work out ..
May 29, 2014
The BEST Yankee Candle fragrance available!!!
This is my all time favorite fragrance. No matter how many "new" ones I try I keep coming back to this one. I use this one all year long. It has a "real" fresh clean pine smell without being to over-powering. It has an excellent throw and last all day. I LOVE LOVE it!!!
April 15, 2014
The scent is awesome
As soon as the tart started to melt the aroma was amazing. I love it!!
March 27, 2014
Outstanding Scent for XMAS Time & Beyond
Over the last several years my wife & I have been purchasing the Balsam & Cedar wax melts along large size candles. Perfect scent that is great around the holiday season along with the cold wintery nights that follow in the months of January/February. Always remembered as a child the smell of the 'real" Christmas Tree & since we now have artificial trees the fragrance of Balsam & Cedar still is a great reminder.
February 5, 2014
Related Searches:
Similar Products:
Also check out:
$1.49

Fragrance of the Month

(16 Reviews)

$1.49

Fragrance of the Month

(24 Reviews)

$1.39

$0.99

Clearance!

(9 Reviews)

$1.39

$0.99

Clearance!

(6 Reviews)

$20.99

Fragrance of the Month

(157 Reviews)