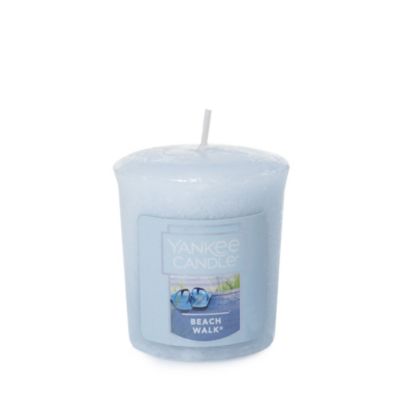 Yankee Candle® Housewarmer® Beach Walk™ Votive Candle
Votive burns up to 15 hours.
Small jar burns up to 40 hours.
Medium jar burns up to 90 hours.
Large jar burns up to 150 hours.
Small tumbler burns up to 45 hours.
Large tumbler burns up to 85 hours and has 2 wicks.
Tea lights burn up to 6 hours each.
Wax melts burn up to 8 hours each.
3-wick candle burns up to 50 hours.
Jar wax melt burns up to 8 hours.
Made in USA.
SKU # 14946551
Yankee Candle® Housewarmer® Beach Walk™ Votive Candle
13
13
I JUST LOVE IT
I did not spect that just one little candle will create such a great ambiance smells clean fresh and welcoming I definately will buy it again.
May 9, 2012
Beautiful Beach
This is such a pretty fragrance and reminds me of an extra special beach near me that I enjoy walking at. Yankee Candle has the best beach scents! Everyone must try this. This is my favorite!
June 23, 2014
Great scent
Not too perfume-y. Very pleasant. Would buy again.
April 26, 2014
Not what I thought...
I was disappointed because I really couldn't smell the candle unless I was leaning right over it. I also think it's more floral/linen than beach-like. I love YC and highly recommend the quality, just not this particular scent. I WISH they would bring back Ocean Water. Nothing beats it in my book.
August 28, 2013
Couldn't smell it.
My mom loves scented candles so I bought her a few votives, my first ever purchase from Yankee Candle, "Golden Sands," "Beach Walk," and "Beach Wood" because she loves the beach. I even bought three votive holders (the glass buckets were so cute and a GREAT price, I thought) to put the votives in. So anyway I lit the three votives in the kitchen. After hours and hours, I still could not smell any of them. Occasionally I'd get a whiff but even if I put my nose over the flame I could not smell them. I think that these votives are good price, just two bucks each, but they do not fill a room, even with three burning. My mom loves them but I could not smell them. Personally, I would not recommend "Beach Walk."
August 16, 2013
If you love the beach, you won't be disappointed!
I absolutely love this fragrance! Its clean and fresh smelling both wrapped and unwrapped! My favorite place to burn it is in the bathroom giving it that extra little touch. I hope that YC makes this candle for a long time to come!
May 22, 2013
Nice!
Soft scent that's really nice! I'm going to get some more of these.
April 27, 2013
Not what I expected
I bought this votive to sample the fragrance before purchasing a larger version of this candle. I had originally smelled the candle in the large jar and thought this may be something I would be interested in, but after lighting the votive, I was disappointed. This scent doesn't remind me of the beach at all. My mom and I both agree that this smells like a mix of fresh linen and flowers. The musk undertone in the candle has an "old-time feel" and reminds me of my grandmother. The fragrance is not bad, and others have positively reviewed this candle, but it is not for me. It's the musk that really turns me off. I would describe the scent as "medium;" the small votive was able to scent a bedroom in about a hour.
April 19, 2013
Related Searches:
Similar Products:
Also check out:
$1.99

$0.99

Clearance!

(6 Reviews)

$1.99

$0.99

Clearance!

(22 Reviews)
$1.99

$0.99

Clearance!

(14 Reviews)

$1.49

Fragrance of the Month

(10 Reviews)

$1.99

$0.99

Clearance!

(7 Reviews)

$1.99

$0.99

Clearance!

(7 Reviews)