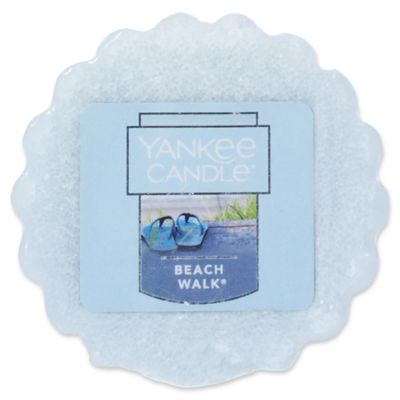 Yankee Candle® Housewarmer® Beach Walk™ Tarts® Wax Melts
Simply place in a Tarts® wax melts warmer (never add water) and light an unscented tea light below, or use one of our electric warmers.
As the wax melts, the fragrance is released. Mix and match scents to create your own personal aroma blends.
Votive burns up to 15 hours.
Small jar burns up to 40 hours.
Medium jar burns up to 90 hours.
Large jar burns up to 150 hours.
Small tumbler burns up to 45 hours.
Large tumbler burns up to 85 hours and has 2 wicks.
Tea lights burn up to 6 hours each.
Wax melts burn up to 8 hours each.
3-wick candle burns up to 50 hours.
Jar wax melt burns up to 8 hours.
Made in USA.
SKU # 14946560
Yankee Candle® Housewarmer® Beach Walk™ Tarts® Wax Melts
18
19
love this scent
I get compliments all the time on how my home smells like your store and all my friends know they can trust my word on the best smells you have and this is deff in the top 10
March 3, 2014
Love Summery Scents
Clean scent...uplifting..makes me feel like going to the beach and getting all sandy and sunburned! Counting down the days until our time changes and I get another hour of precious daylight! Love these dollar sales (:
February 14, 2014
Very Powdery Scent
As I said, this melt has a heavy, powdery smell to it, which is not necessarily a bad thing, but not something that I would personally purchase in a large jar. It's a good temporary scent. Aside from that, it's mild, clean, and slightly musky. However, aside from the salt, it doesn't give me a beachy impression. I'm really impressed with the throw. Our household could smell it on the entire upper level and hints of it even reached downstairs.
February 10, 2014
Crisp, floral scent
This is a very clean scent. So much so that my husband said it reminds him of the bathrooms at a beach, lol. But, in a good, clean way. This scent is definitely on the floral side. Usually florals give me a horrible headache and I don't like them at all. But, while this has a definite floral smell it is also clean and crisp smelling which balances the floral nicely. It's not overwhelmingly floral. I don't know if it reminds me of being at the beach so much, but it is definitely a fresh smell. I would buy this one again and would probably be even nicer with the windows open and some fresh air coming in the house. It has a nice throw and I could smell it throughout my house, which I love. I have to have a strong throw and this one isn't the strongest but that's probably good or the floral just may have given me that headache.
January 31, 2014
Wonderful scent!
This was my first "beach" scent and the first tart I've ever bought, and I was not disappointed. The tart scent lasted well beyond 8 hours. Even after the warmer had been turned off for the night I could smell the tart the next morning. Great quality. Because I've never smelled any of the the other beachy scents, I really can't compare it to anything. But I smelled a light floral scent first which seemed to be the strongest smell, followed by an even mixing of citrus and salty sea air. There was a slight musk that I could barely even detect in the scent. It was a very pleasant scent. Reminds me of some beaches in Greece in the springtime.
January 10, 2014
clean crisp scent
this melt really fills up the room with a clean fresh scent smells as if the house was just cleaned very nice...its an airy beachy scent not strong but very noticable throughout the house
January 5, 2014
My husband loves this one
He loves this scent! He is from Florida and says this makes him think of the beach. It is very calming and soothing. He says it smells like the beach after it rains.
October 17, 2013
Pleasant, but Rather Undistinguished
A calming scent that doesn't make a strong statement. Perfect for a gathering of many people.
August 3, 2013
Related Searches:
Similar Products:
Also check out:
$1.99

$0.99

Clearance!

(32 Reviews)

$1.99

$0.99

Clearance!

(22 Reviews)
$1.39

$0.99

Clearance!

(6 Reviews)

$39.99 - $69.99
(14 Reviews)

$1.99

$0.99

Clearance!

(20 Reviews)