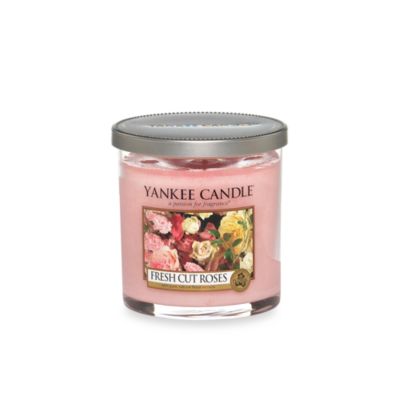 Yankee Candle® Housewarmer® Fresh Cut Roses Small Lidded Candle Tumbler
Votive burns up to 15 hours.
Small jar burns up to 40 hours.
Medium jar burns up to 90 hours.
Large jar burns up to 150 hours.
Small tumbler burns up to 45 hours.
Large tumbler burns up to 85 hours and has 2 wicks.
Tea lights burn up to 6 hours each.
Wax melts burn up to 8 hours each.
3-wick candle burns up to 50 hours.
Jar wax melt burns up to 8 hours.
Made in USA.
SKU # 16444219
Yankee Candle® Housewarmer® Fresh Cut Roses Small Lidded Candle Tumbler
5
5
Wonderful product!!
For a small jar, it makes the whole house fragrant with fresh cut roses!!
June 29, 2014
drowning in cheap perfume
Way too strong and to me, it smelled like cheap perfume. It was overpowering. I love roses but this was too much. I only burned it for about 10 minutes before I put it out and the smell lasted a long time.
June 26, 2014
This candle exceeds all expectations.
First off I love Yankee Candles! I love a lot of the fresh and floral scents. This one is amazing, amazing, amazing 1,000 times. It is an EXACT representation of the smell of roses and I love it so much. Probably in my top 5 favorite of Yankee's ever! The smell fills up the medium sized room I light it in within just a few minutes. Can't get over the perfect quality of this candle.
March 28, 2014
This Product Delivers!!
Fresh cut roses is a magnificent scent, It smells exactly like fresh cut roses, I have been a 'Yankee Candle'' fan for MANY,MANY years now, and I have yet to be dissapointed!! Thank you for such wonderful fragrances.
February 6, 2014
Sweet summer!
I truly love the smell of roses so this candle lets me pretend it is summer all the time!! The smell is wonderful and the throw is exceptional! I will always buy this scent because I love it so much!
November 12, 2013
Related Searches:
Similar Products: