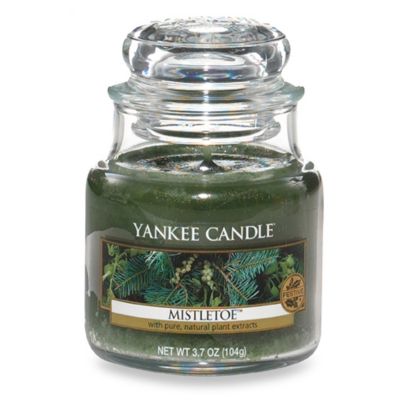 Yankee Candle® Housewarmer® Mistletoe™ Small Classic Candle Jar
The exquisite aroma will linger long after the flame has been snuffed out.
SKU # 16040983
Yankee Candle® Housewarmer® Mistletoe™ Small Classic Candle Jar
4
6
Mistletoe Small Candle
I bought several small candles when they were on sale to get a feel for the scents, we don't have a Yankee Candle store here so I go by descriptions and reviews when I purchase. I fell in love with this scent, of all the candles I bought this was truly in my top 5! My only problem was that the jar was broken when it arrived so I can't actually burn it. (I didn't actually notice it was broken until later, the lid was still sitting on it, but a triangular shaped piece of glass was broken from the top to almost half way down). It's such a nice woodsy scent and I loved it so much I didn't have the heart to throw it away. So I have the jar sitting on my TV stand. lid off, and a chunk of glass missing. It lets off a nice scent despite not being lit!
October 9, 2014
Very holly-day!
i received this as a gift and as soon as i opened jar the scent flowed out of it and it instantly reminded me of a very woodsy christmas!! definitly puts you in the holiday spirit and outdoor adventuring!!
October 2, 2014
Christmas in a jar
I was given this one for Christmas a few years ago and I loved it. It smelled like pine, berries and crackling wood mixed together. Very fresh pine like a new Christmas tree just brought into the house. It had very good sillage as well, it made my whole living room smell great.
December 30, 2012
Quality was great for money
The only criticism I have is that they were not packed very well. Three were packed well, but since I had another two, they were loose in the box. Not broken, but could have been. Otherwise, they were great.
October 25, 2012
Related Searches:
Similar Products: