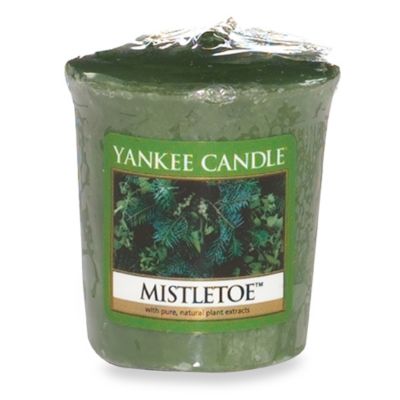 Yankee Candle® Housewarmer® Mistletoe™ Votive Candle
The exquisite aroma will linger long after the flame has been snuffed out.
SKU # 16042463
Yankee Candle® Housewarmer® Mistletoe™ Votive Candle
5
5
Not very strong
The scent of this candle is not very strong. I couldn't really tell that it was mistletoe.
December 7, 2011
Smells better than large jar when burning
I returned a large jar of Mistletoe because when it was burning the odor wasn't pleasant to me. The votive seems to be a little more pleasant. Still prefer Sparkling Pine which they don't make any more :(
December 22, 2013
Favorite of the season
Once it was that my favorite was Christmas Wreath until I tried Balsam and Cedar, until I tried Mistletoe. Now I have it everywhere! In my car and my house. It fills the air with the most increditable fragrance and really puts me in a Holiday mood. You must try it!!
December 4, 2012
One of Yankee's best candles
Smells wonderful, can keep this burning for days. I especially like to mixed the Mistletoe votive with Christmas Wreath and Bayberry and burn all three together.
November 24, 2012
perfect for christmas
I absolutely love this candle, but my same complaint for all yankee candles is the price. I'm always willing to put out the little bit of extra money for christmas and halloween though.
September 13, 2012
Related Searches:
Similar Products: