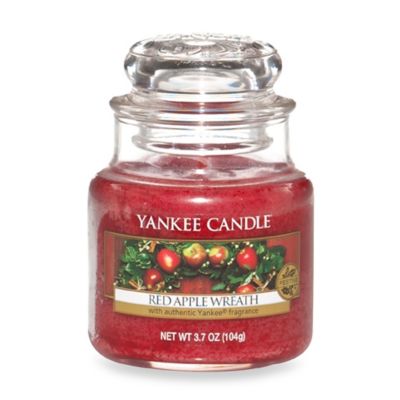 Yankee Candle® Housewarmer® Red Apple Wreath™ Small Classic Candle Jar
You'll create a warm, inviting atmosphere by simply lighting a candle and enjoying the delicate fragrances that only Yankee Candle can produce
The exquisite aroma will linger long after the flame has been snuffed out
Imported
SKU # 15877677
Yankee Candle® Housewarmer® Red Apple Wreath™ Small Classic Candle Jar
2
2
Prettiest of the Pine Scents
Sweet apple, spices and hints of pine. There's no "baked" scent, just some extra spices added to the apple. Yankee Candle votives are often enough in my small space but in this scent I want the big jar to fill my room.
March 26, 2013
Had to pick a few Christmas candles & really enjoyed this one;.))
Glad I read a few reviews on this one here & I don't think anyone had anything bad to say about it including me (when I purchased it & burned it) Next time I will buy a big jar though. Had a sale on the smaller ones but it still smelt great to me & everyone else. Yankee, ya got this one down pat in my opinion. It does smell almost exactly like what is written about it. Usually don't care for most of anything that has cinnamon in the description cuz it usually just smells like that (over powering every other scent in it). Not this1. To me I can smell almost every note in it that is in the description. Thanks Yankee!! festive aroma of sweet apples, cinnamon, walnuts and maple.
January 18, 2013
Related Searches:
Similar Products: