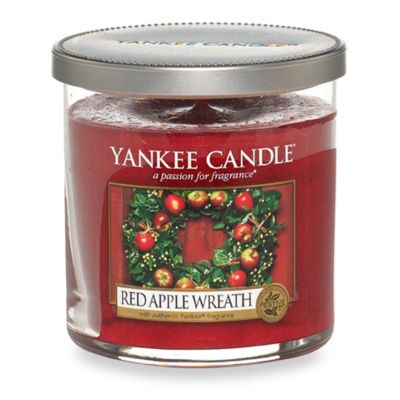 Yankee Candle® Housewarmer® Red Apple Wreath™ Tumbler Candle
You'll create a warm, inviting atmosphere by simply lighting a candle and enjoying the delicate fragrances that only Yankee Candle can produce
The exquisite aroma will linger long after the flame has been snuffed out
Imported
SKU # 16745448
Yankee Candle® Housewarmer® Red Apple Wreath™ Tumbler Candle
5
5
Merry Christmas in a jar!
I purchased this scent last Christmas, and religiously had this lit. It never lost scent, and it always made the holiday vibes a lot stronger :-) A very nice scent that just reminds you of the holidays right off the bat. It's sweet and Christmas-ish all in one. A must have.
April 19, 2013
Favorite Fragrance
This is my favorite fragrance and I burn it year round. It smells through out my home and I'm constantly getting compliments. I also purchased the plug-ins this past Christmas.
February 7, 2013
Fragrance outstanding
Love this scent. It spreads all around the room. One of my all time favorites!
January 26, 2013
Could only smell it when first lit
Smelled good in the jar. Lit it and smelled great for an hour or two. Next lighting, cant smell a thing. Even when not lit, wax doesnt smell anymore. Had it burning for several hours too. Maybe these small tumblers just dont have a good scent throw, but it is going to charity now because I cant smell a thing.
December 16, 2012
Very Nice Fragrance
This is without a doubt, one of my very favorite fragrances.
December 11, 2012
Related Searches:
Similar Products: