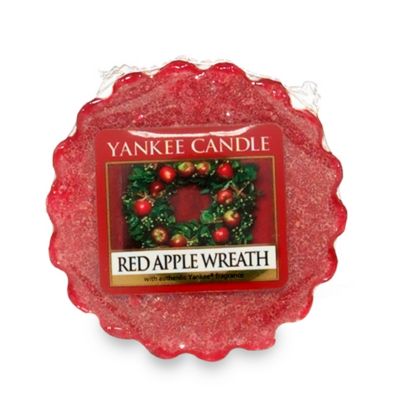 Yankee Candle® Housewarmer® Red Apple Wreath™ Wax Potpourri Tart
You'll create a warm, inviting atmosphere by simply lighting a candle and enjoying the delicate fragrances that only Yankee Candle can produce
The exquisite aroma will linger long after the flame has been snuffed out
Imported
SKU # 15877723
Yankee Candle® Housewarmer® Red Apple Wreath™ Wax Potpourri Tart
12
12
Perfect Scent of Apple
I am not a fan of "Apple" tarts however I thought I would give this one a try. I'm glad I did. The "Apple" fragrance is perfect and you can smell it throughout my living room/kitchen area...and then some. Wish I would have purchased more.
December 21, 2011
Holiday season all year round!
This is one of my favorites - it smells like sweet apple with hints of cinnamon. Medium throw and lasting (but not overpowering) scent are the main reasons why I like to burn it all year round - and when I do, the whole house smells like baking! Altogether, a great scent and definitelly worth a try - especially if you enjoyed Macintosh Spice or Kitchen Spice. :-)
April 2, 2014
Smells like fresh apples
Amazing autumn scent makes your home smell warm and cozy like your baking a warm apple pie!!!! Strong long lasting scent!!!
February 12, 2014
Nice fall scent
Not overpowering and good combination of fall fragrances and delicious apple.
January 8, 2014
Best of Autumn and Winter Scents
I love Red Apple Wreath! To me, it's almost like a perfect blend of Yankee's more Autumn oriented scents with their more Winter oriented scents. Excellent throw in tart form, very natural smelling. Kind of like MacIntosh Apple mixed with Mistletoe. Yum!
November 29, 2013
A great winter scent
Smells like apples and bay/pine boughs. Very pleasant. Medium throw and medium strength of scent. It's so good though. Have gotten several years in a row.
August 31, 2013
Poor scent
I bought a bunch of these after reading the positive reviews, but I am disappointed with the scent. Had it burning in a tart warmer and had to check to see if tea light was lit because I could not smell anything! Some said pine...I smell no pine, only a weak, weak apple scent. No throw at all. I was hopeful that this would be a cross between MacIntosh and Christmas Wreath but it's not even close. On one note, I do prefer a strong scent. Next time I will burn three tarts instead of one. Will not buy this again.
April 7, 2013
nice clean fragrance
Although I liked this very much, I prefer Red Berries and Cedar. This has a nice smell, and lasts through 4 burns.
March 25, 2013
Related Searches:
Similar Products:
Also check out:
$1.79

$1.19

Clearance!

(5 Reviews)

$1.99

$0.99

Clearance!

(7 Reviews)

$9.99 - $17.99
(2 Reviews)

$1.99

$0.99

Clearance!

(14 Reviews)

$5.99

$2.99

Clearance!

(2 Reviews)

$1.99

$0.99

Clearance!

(19 Reviews)

$1.49

Fragrance of the Month

(28 Reviews)

$11.99

Free Standard Shipping

(32 Reviews)