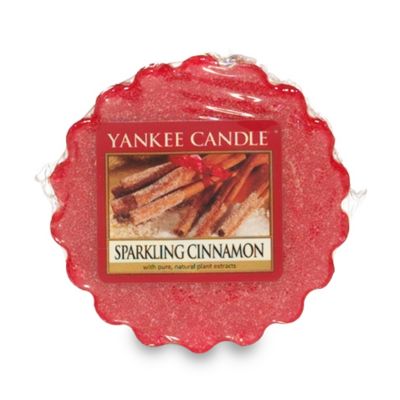 Yankee Candle® Housewarmer® Sparkling Cinnamon Wax Potpourri Tart
A variety of sizes and shapes allow you to select a candle that is just right for your decorating needs.
SKU # 16041572
Yankee Candle® Housewarmer® Sparkling Cinnamon Wax Potpourri Tart
16
16
Great All Year Long
This scent is great - never grow tired of it. Sometimes I mix with other scents .... for example, Red Apple Wreath as the cinnamon mellows the strong apple scent. Yankee - don't make this a seasonal only scent....because I have to load up on them!
August 25, 2014
Love it
This is the best, most spicy cinnamon ever! If you want a really good cinnamon with an excellent spicy kick then this is the candle for u!!
August 4, 2014
Great Christmas Scent
Awesome, long lasting cinnamon scent! Perfect for Christmas Time!! I wanna second what a reviewer said about this scent smelling like the spicy cinnamon heart candies that you get on Valentines Day. That's so true! It really does smell like those candies. Sparkling Cinnamon is definitely one of my favs for Christmas!
July 31, 2014
Great, especially good if you have boys/pets!
Sparkling Cinnamon is fabulous. It has a nice clean scent of cinnamon without being sickly sweet. Great especially in winter when things can get a bit musty and stuffy, especially in a house like mine with boys and pets!
May 18, 2014
Spicy... in a good way!
Sparkling Cinnamon smells exactly like spicy cinnamon heart candies you get around Valentine's Day. The aroma is warm and sweet. The throw is great. I was worried that it would be overwhelming because it's a strong smell, but it's not.
February 15, 2014
Christmas Decoration
It is one of few that I wants for Christmas Decoration.
November 17, 2013
One of the staples for scents that nurture "feeling good"
Sparkling Cinnamon is one of the companion fragrances that we keep in our home along with Sparking Vanilla, Cinnamon Stick and Sparkling Snow. It has a delicious familiar "holiday" scent that works even when the temps are 103 degrees outside. We buy in bulk and enjoy throughout the year. Pure pleasure.
September 17, 2013
Strong but not overwhelming fragrance
I love the cinnamon smell. I had it in my kitchen and my son said he could smell it outside. Strong but not powerful fragrance. Long lasting fragrance even after the tea light goes out.
August 17, 2013
Related Searches:
Similar Products:
Also check out:
$1.99

$1.49

Fragrance of the Month

(32 Reviews)

$10.99

$8.19

Fragrance of the Month

(3 Reviews)

$1.49

Fragrance of the Month

(25 Reviews)

$1.49

Fragrance of the Month

(27 Reviews)

$1.99

$1.49

Fragrance of the Month

(9 Reviews)

$1.49

Fragrance of the Month

(16 Reviews)

$27.99

$20.99

Fragrance of the Month

(87 Reviews)

$15.99

$11.99

Fragrance of the Month

(5 Reviews)

$9.99

$7.49

Fragrance of the Month

(6 Reviews)