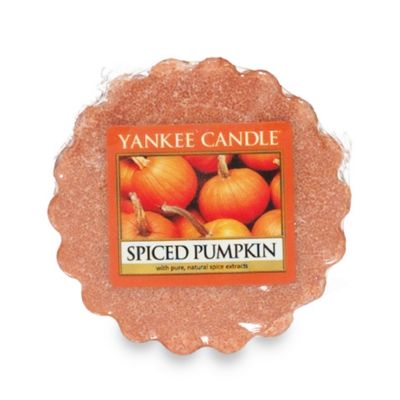 Yankee Candle® Housewarmer® Spiced Pumpkin Wax Potpourri Tart
Create a warm, inviting atmosphere by simply lighting this candle and enjoying the delicate fragrances that only Yankee Candle® can produce.
The exquisite aroma will linger long after the flame has been snuffed out.
SKU # 16041424
Yankee Candle® Housewarmer® Spiced Pumpkin Wax Potpourri Tart
22
24
Autumn Fragrance
This is a wonderful fragrance for fall and Thanksgiving holidays
November 12, 2012
Best smelling candle Ever
This was my first purchase of a Potpourri Tart and I wasn't disappointed. The fragrance is so strong and makes my kitchen smell of everything Fall.
October 19, 2011
wonderful scent
Love this tart! The spiced pumpkin scent is divine!
October 19, 2011
Love it!
Smells amazing! Give my house an overall feeling of the fall season. Definitely a favorite scent!
September 13, 2014
hmmm
Not sure why I'm not in love with this scent. Something about it didn't quite win me over. Somehow it didn't have the pumpkin essence I'm used to. But it had great throw and clearly other people are in love with it, so give it a shot!
September 13, 2014
Favorite Spice and Pumpkin scent!
Love this scent, it actually smells like what baking pumpkin with spice added to it would smell like. It brings me back to walking into my Grandma's kitchen as a kid during the Fall season and oh the smells of her baking were just heaven. This has a strong throw but not overwhelming. I get migraines that are triggered by too perfumey or strong an odor and when I'm able to find a scent that is strong but not deadly then I have to share the word so maybe it helps others with the same problem. Definitely recommend this product!!
September 5, 2014
Best pumpkin!
This is the best pumpkin candle out there! It has a special place in my heart because it was the first scent I ever bought from Yankee! Needless to say I'm hooked! I love the pumpkin throw with the sweet undertones. But then it has a spicy kick. Definitely a must have!!
August 3, 2014
Love it!!
I absolutely love this scent. Autumn is my favorite season. Wish it was a bit stronger and lasts longer though. Seems 8 hrs isn't long enough at times and it reminds me of pumpkin pie.
July 29, 2014
Related Searches:
Similar Products:
Also check out:
$1.49

Fragrance of the Month

(27 Reviews)

$1.99

$1.49

Fragrance of the Month

(16 Reviews)

$1.49

Fragrance of the Month

$1.49

Fragrance of the Month

$20.99

Fragrance of the Month

(119 Reviews)

$1.49

Fragrance of the Month

(18 Reviews)

$1.99

$1.49

Fragrance of the Month

(19 Reviews)

$7.49

Fragrance of the Month

(7 Reviews)

$17.19

Fragrance of the Month

(1 Review)

$20.99

Fragrance of the Month

(15 Reviews)
$29.99 - $69.99
(2 Reviews)