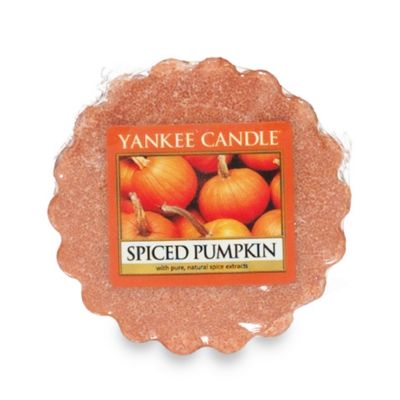 Yankee Candle® Housewarmer® Spiced Pumpkin Wax Potpourri Tart
Create a warm, inviting atmosphere by simply lighting this candle and enjoying the delicate fragrances that only Yankee Candle® can produce.
The exquisite aroma will linger long after the flame has been snuffed out.
SKU # 16041424
Yankee Candle® Housewarmer® Spiced Pumpkin Wax Potpourri Tart
14
16
Autumn Fragrance
This is a wonderful fragrance for fall and Thanksgiving holidays
November 12, 2012
Best smelling candle Ever
This was my first purchase of a Potpourri Tart and I wasn't disappointed. The fragrance is so strong and makes my kitchen smell of everything Fall.
October 19, 2011
wonderful scent
Love this tart! The spiced pumpkin scent is divine!
October 19, 2011
Perfect Fall Scent
I really love Pumpkin Spice! It smells so yummy just like a pumpkin pie. I use the tart in my medium sized bedroom and the scent is strong and long lasting.
June 30, 2014
SO YUMMY
Spiced Pumpkin is delish! Not so spicy as some other Fall scents but if you like Pumpkin and Sugar this is a winner!
December 31, 2013
I use them in electric warmer
Love the Pumpkin scent but it could be a little stronger. I use this in my kitchen and very much enjoy it
October 16, 2013
disappointed
I usually only review on what i like but this was very disappointing to me! I don't know if i got a bad batch but this was VERY weak!!! I had 2 tarts lit at the same time and they just didn't give the quality of fragrance that i'm used to from Yankee. I also have this in a large jar candle and while it is stronger than the tarts, it's just not the same room filling fragrance i'm used to.
September 4, 2013
Awesome tart anytime of year
I love the Spiced Pumpkin tarts. These tarts are super strong and always ready to fragrance a room. I use these tarts along side a Cinnamon Stick tart. Perfect anytime of year but especally when Fall rolls around. Spiced Pumpkin just makes you think of baking pumpkin pies during the fall season. Yankee please keep these tarts around for our warmers because we can't get enough.
April 24, 2013
Related Searches:
Similar Products:
Also check out:
$1.49

Fragrance of the Month

(25 Reviews)

$1.49

Fragrance of the Month

(32 Reviews)

$1.99

$0.99

Clearance!

(20 Reviews)

$1.49

Fragrance of the Month

$1.49

Fragrance of the Month

$1.49

Fragrance of the Month

$1.49

Fragrance of the Month

$20.99

Fragrance of the Month

(109 Reviews)

$1.49

Fragrance of the Month

(18 Reviews)