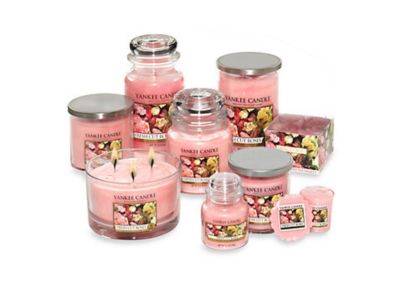 Yankee Candle® Housewarmers® Fresh Cut Roses Tarts® Wax Potpourri
Votive burns up to 15 hours.
Small jar burns up to 40 hours.
Medium jar burns up to 90 hours.
Large jar burns up to 150 hours.
Small tumbler burns up to 45 hours.
Large tumbler burns up to 85 hours and has 2 wicks.
Tea lights burn up to 6 hours each.
Wax melts burn up to 8 hours each.
3-wick candle burns up to 50 hours.
Jar wax melt burns up to 8 hours.
Made in USA.
SKU # 12923031
Yankee Candle® Housewarmers® Fresh Cut Roses Tarts® Wax Potpourri
35
35
i love this tart.
I love this scent.So very feminine and romantic.I think your home should smell as beautiful as it looks.This melt lasts along time and like having a rose garden inside.
September 26, 2014
perfection
i could not believe it the scent made my room smell just like someone just cut some roses
September 26, 2014
Beautiful Fragrance
I could burn this continuously. This is the sweetest rose scent that Yankee offers in my opinion. Very real and not really perfumey at all.
August 17, 2014
Perfect
I got one of these for my grandma and I. She loved it, she said it reminded her of a flower garden. I ended up giving her mine because it was too perfumed for me. It smells very good tho, exactly what its suppose to smell like
August 3, 2014
Smells just like fresh cut roses
No question this scent is in my top 5. Smells just like a fresh bouquet of roses..wonderful throw and lasts the whole 8 hours, if not longer!
June 5, 2014
My Favorite
I love this fragrance, I fell in love with Roses of Cliff Walk many years ago, when that was discontinued I tried Fresh Cut Roses, which is now my favorite for Spring and Summer, I have tried True Rose, nice, but I think this one is best.
April 25, 2014
Wow! Amazingly real!
I melted one of these upstairs in my bedroom, and it filled both the upstairs AND the man I floor of my house with scent! I've never have a melt that had such a scent throw! It lasted a good couple of days (I sometimes just leave the warmers on around the clock because there are 7 of us so there is always someone home to enjoy it) and it still had nice fragrance when I turned it off. It definitely lasted longer than most melts. And the scent was so REAL! It smelled just like a bouquet of fresh roses. So decadent! I will be buying more of these!
March 17, 2014
like a just delivered bouquet of roses
as soon as i put it in the warmer the little crumbs that melted let out this wonderful scent of roses and since yesterday was valentines day :D it reminded me alot of the roses my kids brought home to me ...so to keep that wonderful scent i melted the rest of the night and it still was going in the morning very pleasant scent of real roses ..not as strong as true rose but just as true to the name
February 15, 2014
Related Searches:
Similar Products:
Also check out:
$1.49

Fragrance of the Month

(25 Reviews)

$1.49

Fragrance of the Month

(24 Reviews)

$1.99

$0.99

Clearance!

(32 Reviews)