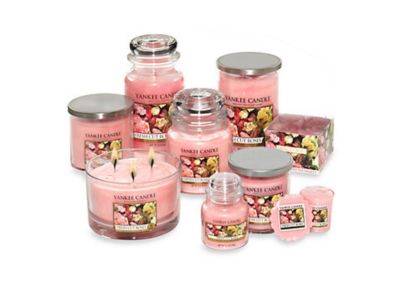 Yankee Candle® Housewarmers® Fresh Cut Roses Tarts® Wax Potpourri
Votive burns up to 15 hours.
Small jar burns up to 40 hours.
Medium jar burns up to 90 hours.
Large jar burns up to 150 hours.
Small tumbler burns up to 45 hours.
Large tumbler burns up to 85 hours and has 2 wicks.
Tea lights burn up to 6 hours each.
Wax melts burn up to 8 hours each.
3-wick candle burns up to 50 hours.
Jar wax melt burns up to 8 hours.
Made in USA.
SKU # 12923031
Yankee Candle® Housewarmers® Fresh Cut Roses Tarts® Wax Potpourri
31
31
Smells just like fresh cut roses
No question this scent is in my top 5. Smells just like a fresh bouquet of roses..wonderful throw and lasts the whole 8 hours, if not longer!
June 5, 2014
My Favorite
I love this fragrance, I fell in love with Roses of Cliff Walk many years ago, when that was discontinued I tried Fresh Cut Roses, which is now my favorite for Spring and Summer, I have tried True Rose, nice, but I think this one is best.
April 25, 2014
Wow! Amazingly real!
I melted one of these upstairs in my bedroom, and it filled both the upstairs AND the man I floor of my house with scent! I've never have a melt that had such a scent throw! It lasted a good couple of days (I sometimes just leave the warmers on around the clock because there are 7 of us so there is always someone home to enjoy it) and it still had nice fragrance when I turned it off. It definitely lasted longer than most melts. And the scent was so REAL! It smelled just like a bouquet of fresh roses. So decadent! I will be buying more of these!
March 17, 2014
like a just delivered bouquet of roses
as soon as i put it in the warmer the little crumbs that melted let out this wonderful scent of roses and since yesterday was valentines day :D it reminded me alot of the roses my kids brought home to me ...so to keep that wonderful scent i melted the rest of the night and it still was going in the morning very pleasant scent of real roses ..not as strong as true rose but just as true to the name
February 15, 2014
One of the best
I love this tart. It is superior to True Rose. I frequently buy roses, and if I burn this tart, the whole house smells like roses. I love it.
August 17, 2013
Fresh roses
It always amazes me how Yankee Candle can capture different types of nature scents in their tarts. This tart smells just like fresh cut roses. My only complaint is that it does not last for too long. For the first few hours I can smell it all around the area but it starts to fade and it definitely does not last for the full eight hours. I still recommend it though because I love the smell of roses.
August 9, 2013
NOT AS "ROSY" AS CHRISTMAS ROSE ):
I love the Christams Rose scent and tried this and another rose fragrance. They just were not the same rosy feeling..the christmas rose smells more real and is stronger in fragrance, lasting well over 24 hours in a big room. Ths scent is nice, and good for perhaps 10 hours, tops. I like this scent, just do not like it as much as the christmas rose which is on sale now 99 cents, so I will stock up as it isnt always available (:
July 26, 2013
Intoxicating
Purchased these tarts along with the jar candle and votives, smells like roses all through out the house ! A really wonderful scent.
June 19, 2013
Related Searches:
Similar Products: