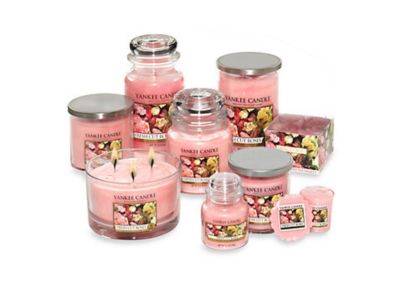 Yankee Candle® Housewarmers® Fresh Cut Roses Tea Light Accent Candles (Box of 12)
Votive burns up to 15 hours.
Small jar burns up to 40 hours.
Medium jar burns up to 90 hours.
Large jar burns up to 150 hours.
Small tumbler burns up to 45 hours.
Large tumbler burns up to 85 hours and has 2 wicks.
Tea lights burn up to 6 hours each.
Wax melts burn up to 8 hours each.
3-wick candle burns up to 50 hours.
Jar wax melt burns up to 8 hours.
Made in USA.
SKU # 12923015
Yankee Candle® Housewarmers® Fresh Cut Roses Tea Light Accent Candles (Box of 12)
8
8
My whole house smells just like "fresh cut roses"
I buy fresh flowers for 2 reasons, visual beauty, and wonderful smell, with these candles you can have the smell anytime you want and they do go throughout the whole house, Just Wonderful!!!!
May 26, 2014
Just Like a Beau's Gift of Roses
The scent from these tea lights smells just like a fresh bouquet of roses, those often received from a favorite beau, a fiance', or your husband. Bath n Body Works has this scent down perfectly!!! It's my favorite and I buy it not only as these tea lights, but also in the big candles, so my house always smells wonderful, even without real roses anywhere about...
December 17, 2013
Really Smells Like Roses
If you buy these you will really love the scent. If you love the smell of roses then buy this. You will not be disappointed at all. They really do smell like the roses. I always buy this scent from Yankee Candles too. So why don't you go a head & try them out.
June 22, 2013
The smell is unmistakeably roses and I wouldn't want any other fragrance.
I use several fragrances through the year, based on seasons. Fresh Cut Roses is my summer fragrance. In June, July and August, I fill my house with all sizes and shapes of Fresh Cut Roses. I have tea lights for my mantle, and large and medium jar candles for the rest of the house. I have candle warmers and use the tarts as well. Fresh Cut Roses not only smells wonderful, but the color goes with my decor. I hope this fragrance doesn't get retired. I've been using it for several years and can't imagine any other fragrance to take its place....
March 9, 2013
Spring is here!
If ever you wanted to brighten a room with the beatiful aroma of spring this is the scent to do it! This is perfect for living rooms and large bed rooms. With this scent you feel like there are vases full of fresh cut flowers, but without the worry of dealing with the clean up of real flowers.
September 2, 2012
LOVE the smell...
Beautiful smell of roses. I light up 2 tea light candles to get a full smell in my room. Can't lie this scent is something I recommend for a lovely romantic setting. :)
July 28, 2012
Absolutely love the smell of roses in my bedroon...very refreshing and soothing!
The scent of freshly cut rosse just so soothing...so I buy candles from YC because the scent is so very real.
July 20, 2012
Best Rose offered
Fresh Cut Roses is the best rose smelling candle on the market. It smells like you are in the middle of a rose garden on a cool day. I burn it all the time! It is my favorite Yankee candle.
July 14, 2012
Related Searches:
Similar Products:
Also check out:
$49.99

Exclusively Ours

(5 Reviews)

$3.99 - $5.99
(11 Reviews)

$1.39

$0.99

Clearance!

(5 Reviews)

Twin $19.99 - Cal King $34.99
(50 Reviews)