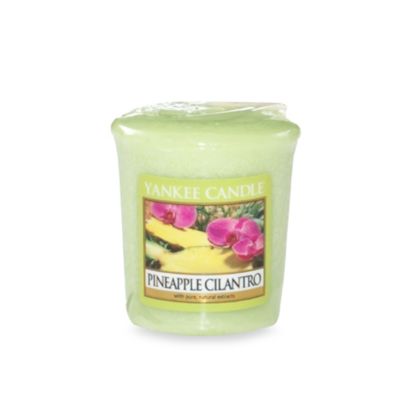 Yankee Candle® Pineapple Cilantro Votive Candle
Create a tropical retreat in your home with the Yankee Candle Pineapple Cilantro Votive Candle
Blends fresh pineapple, sweet coconut, and a citrus touch of cilantro
Natural essential oils create a realistic scent
Burns up to 15 hours
Premium-grade paraffin wax
100% lead-free natural fiber wick
Made in USA
SKU # 16969559
Yankee Candle® Pineapple Cilantro Votive Candle
12
12
Great
Love the combination of smells. Its not too overpowering but you can def smell the fragrance when you enter a room.
April 23, 2014
First time customer, Honest reviews.
How I use them: In a tart burner Rating: 75/100 Thoughts: It smelt mostly of Pineapple, which is very nice because they do not have an actual Pineapple scent. My girlfriend loved it, and I enjoyed it as well. Smell: Mostly Pineapple Strength: 6/10 It had a nice room filling scent, but it does not reach out past the room. Likes: Pineapple Cilantro, Macintosh, Patchuli, Cranberry chutney, bahama breeze, sage and citrus, pomegranate cider, Mandarin Cranberry, Apple cider, Farmers Market, Blueberry Scone, Lavender Vanilla dislikes: balsam and cedar, vineyard, black cherry, vanilla cupcake, vanilla, Grapevine and oak, midnight jasmine, lilac blossom
September 27, 2013
Tropical
I don't always love tropical scents. I liked this though for summer. Smells like pineapple. Medium throw. I enjoyed it.
September 1, 2013
My "go-to" scent in every form!
I can't get enough of pineapple cilantro whether it's a small tumbler, large jar candle or a samplers votive. It smells divine and has an excellent throw no matter what form it's in, small or large. I love that I can even burn this small votive and it has the same strong throw as burning the larger candle because when I'm in a hurry to get the house smelling yummy before guests come over this votive gets the job done. I love this scent!
July 1, 2013
Simply Delicious
If you are a fan of tropical scents, you'll love this one. The pineapple just seems so fresh. I'm a big fan of mixing scents and I burn this along with Black Coconut which is an excellent companion to pineapple.
June 8, 2013
Nice scent, but weak throw
I bought this sample votive to test the fragrance before purchasing a larger version of this candle. I like the scent. It is a sweet, fruity scent with a hint of pineapple. It's the perfect scent for summer, yet when I had the votive lit, I could not smell it. The candle was lit for 2 hours in an enclosed bedroom. I even tried leaving the room for awhile thinking maybe I had accustomed to the scent, but when I walked back in, you could barely tell a candle was lit. I prefer candles with a stronger throw. If I am going to light a candle, I want to know one is lit. This just isn't strong enough for me. I recommend this candle if you are looking for something very light and fruity, but if you truly want it to scent a room, this is not the candle for you.
June 6, 2013
Fresh scent for spring and summer
Fragrance is fresh and sweet. Sets a relaxed, tropical tone for spring and summer. The votive is strong enough for a large room and I did notice the scent coming into the next room too.
May 19, 2013
Love it!!
I ordered these for wedding favor gifts and absolutely loooove the smell. They've been sitting in my closet until the wedding and every time I walk in, I smell the beautiful fragrance and I ordered these MONTHS ago!
April 25, 2013
Related Searches:
Similar Products: