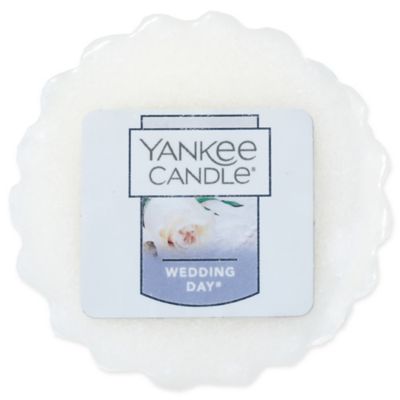 Yankee Candle® Wedding Day™ Tarts® Wax Melts
Simply place in a Tarts® wax melts warmer (never add water) and light an unscented tea light below, or use one of our electric warmers. As the wax melts, the fragrance is released. Mix and match scents to create your own personal aroma blends.
Wax melts burn up to 8 hours each.
Votive burns up to 15 hours.
Small jar burns up to 40 hours.
Medium jar burns up to 90 hours.
Large jar burns up to 150 hours.
Small tumbler burns up to 45 hours.
Large tumbler burns up to 85 hours and has 2 wicks.
Tea lights burn up to 6 hours each.
3-wick candle burns up to 50 hours.
Jar wax melt burns up to 8 hours.
Made in USA.
SKU # 13060576
Yankee Candle® Wedding Day™ Tarts® Wax Melts
16
16
Yankee Candles
These are the best smelling candles I have EVER bought!! It seams like the fragrance lasts forever . I will never buy any other candle as long as I live. For the price, it is an awsome deal. Try them and I guarantee you will love them too!
November 30, 2010
Beautiful, Elegant, Rich, Fresh, Classic!
The Wedding Day Tart is one of Yankee Candle's most beautiful fragrances. It is an elegant fragrance that has a soft, rich and lasting throw without being obtrusive. I detect a warm gardenia and something else soft, powdery and fresh. I use the Wedding Day Tart in my office and it is my co-workers and clients absolute favorite fragrance. I use Wedding Day at home when I'm entertaining or just relaxing. I was shopping and saw a friend with her young daughter and the daughter said, "Look Mom, there's the lady with the nice smelling house." I hope Yankee Candle keeps Wedding Day as a staple in their line up so I will always be known as "the lady with the nice smelling house".
May 3, 2014
Nice, but strong
For me, this scent is better in the candle. It was way too strong in the Tart form, but I still really like. I think I'll stick to the candle instead.
April 17, 2014
elegant scent
This one when i saw the name i thought it would smell like cake for some reason...but not nowhere near that it smells like a sweet floral perfume not musky but a little powdery, very delicate and long lasting in a tealight warmer
February 15, 2014
Wonderful, long-lasting tart fragrance
My favorite tart ! Gorgeous fragrance ... can my favorite tarts (Wedding Day, Loves Me, Loves Me Not, Holiday Bayberry) be available to me for $.50 each, please? I'd probably buy at least 50 each time I order ...
October 15, 2013
Floral and Powder
This tart caught my eye since I will be getting married in the near future. The fragrance is perfectly balanced between floral and powder. It is a very soothing, relaxing, uplifting scent. It has a great throw, soft and not overpowering. The scent is so dainty that I will use it the to set the mood on our wedding day!
June 1, 2013
Fresh, light and enjoyable
This scent is awesome! I expected a full scent of floral, but it has many other aromas tossed in that it is difficult to describe. Good throw, lasts over an 8 hour burn, scent does change with time (in a good way.) It is an uplifting scent. I suggest burning this when entertaining.
May 25, 2013
What a LOVELY scent!
I'm not sure what I was expecting with this fragrance- I actually bought it while it was on sale for $1 as a trial- and I am so glad that I did!! It has a light, fresh fragrance that is not to heavy or too light. This is def one of my fave scents added to my list.
April 17, 2013
Related Searches:
Similar Products:
Also check out:
$1.99

$0.99

Clearance!

(19 Reviews)

$24.99

Exclusively Ours

(100 Reviews)

$1.99

$0.99

Clearance!

(23 Reviews)

$39.99 - $49.99
(3 Reviews)
$1.19

$0.99

Clearance!

(9 Reviews)

$1.99

$0.99

Clearance!

(17 Reviews)

$34.99 - $59.99
(19 Reviews)

$1.39

$0.99

Clearance!

(4 Reviews)

$1.39

$0.99

Clearance!

(5 Reviews)
$39.99 - $79.99
(25 Reviews)

$12.49 - $29.99

Clearance!

Exclusively Ours

(3 Reviews)

$39.99 - $49.99

Exclusively Ours

(23 Reviews)