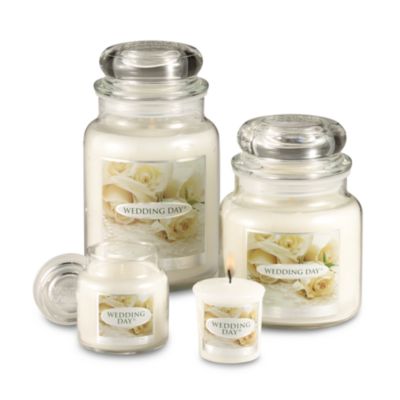 Yankee Candle® Wedding Day™ Votive Candle
Votive burns up to 15 hours.
Small jar burns up to 40 hours.
Medium jar burns up to 90 hours.
Large jar burns up to 150 hours.
Small tumbler burns up to 45 hours.
Large tumbler burns up to 85 hours and has 2 wicks.
Tea lights burn up to 6 hours each.
Wax melts burn up to 8 hours each.
3-wick candle burns up to 50 hours.
Jar wax melt burns up to 8 hours.
Made in USA.
SKU # 12802528
Yankee Candle® Wedding Day™ Votive Candle
8
8
Love the fragrance & can use in any room!
As always perfectly happy with Wedding Day votive candles. Really enjoy the fragrance!
July 3, 2014
Not a great floral
I am not a lover of floral, but I wanted to broaden my scent horizons so I picked up a votive of Wedding Day during a sale. It is nice and light but I can't say that it is working for me. I am not sure what the combination of flowers in this scent are but it reminds me more of a detergent/soapy smell than floral.
March 18, 2014
Cute Wedding votive
I got this to go with the cute little owl votive holder, for my sister-in-law. She really liked it and it's a very cute "little something" to put in a Bride's gift bag!
May 26, 2013
Sweet Reminder of My Wedding Day 9-2-2002
My husband Ken gave this to me on our wedding day and ever since it reminds me of our love. He passed but his memory is kept forever in my home by this fragrance.
April 16, 2013
I LOVE THIS SCENT!!
I BUY THIS SCENT EVERYTIME I GO INTO YC. IT'S A MUST HAVE FOR ANY OCCASION. I LIKE TO STOCK UP WHEN ON SALE FOR $1. YOU CAN'T GO WRONG WITH THIS SCENT. MY ALL TIME FAVORITE.
February 19, 2013
WEDDING DAY SMELLS AWESOME!
THIS CANDLE HAS CLASS AND LOOKS CLASSY! IT IS THE PERFECT WEDDING DAY CANDLE OR SPRING CANDLE, IT HAS BEEN SOLD AND LOVED BY SO MANY PEOPLE..I WOULD HIGHLY RECOMMEND THIS CANDLE TO ANYONE..THANKS AGAIN YANKEE CANDLE!!!!!
February 13, 2013
yuk!!!!!!
it smelled like ivory soap to me , definatley did not remind me of wedding. sorry
August 1, 2012
Scent of finest flowers
This fragrance is like that of tea roses combined with other delacate flowers - classy. I combine that with Lilac or Christmas Rose. Also, try it with Witches' Brew (patchouli) for a naughty nice effect.
July 14, 2012
Related Searches:
Similar Products: