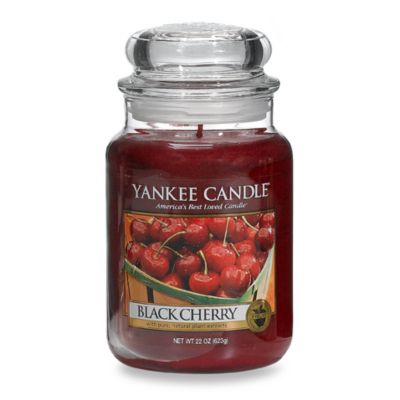 Yankee Classic® Housewarmer® Black Cherry Large Classic Jar Candle
Votive burns up to 15 hours.
Small jar burns up to 40 hours.
Medium jar burns up to 90 hours.
Large jar burns up to 150 hours.
Small tumbler burns up to 45 hours.
Large tumbler burns up to 85 hours and has 2 wicks.
Tea lights burn up to 6 hours each.
Wax melts burn up to 8 hours each.
3-wick candle burns up to 50 hours.
Jar wax melt burns up to 8 hours.
Made in USA.
SKU # 14946616
Yankee Classic® Housewarmer® Black Cherry Large Classic Jar Candle
72
72
Smells like medicine....cherry Sucrets. Not what I expected. =(
Smells like medicine... cherry Sucrets, not what I expected. =(
June 29, 2014
Superfruit! AND STRONG!
This scent filled the entire downstairs of my house and lingered up the staircase to flow into my living room. I bought too many and got a little burnt out on the smell, because after a while it didn't smell fresh and fruity to me, it smelled sickly sweet and artificial cough syrup like to me. It did not go to waste as my roommate snagged it off the coffee table and put it in his room. He really enjoys it now. I enjoyed the first few I bought but sometimes you just have to rotate scents. :) The throw is wonderful and it does have a nice smell, just remember to rotate!
May 8, 2014
Great lasting fragrance
LOVE <3 LOVE <3 LOVE <3 IT! Makes my office a place I want to be!
May 7, 2014
50/50
I LOVE the scent of this candle and usually it burns really well but lately the last 2 candles of this fragrance that I bought don't burn well, they tunnel even with an Illuma-Lid.
February 24, 2014
The best kitchen candle
I LOOOOOVE this candle for the kitchen, it smells like i just baked a pie or some other cherry baked good. I hope this will never be discontinued, try this in your kitchen, it is a must!
February 19, 2014
Delicious!
This scent is wonderful. I can understand why it's such a popular scent among customers. Its truly amazing. When you first smell it, its great- but once you light it and it burns for a while- it gets even sweeter and better. You have to try it!
February 15, 2014
Love this!!!!
My family loves this candle. It's the perfect summer scent!
February 10, 2014
Doesn't Smell!
When you smell the candle in the jar when it isn't lit, it smells like wonderful, sweet black cherry! When the candle is lit, it smells like NOTHING! I bought this one last year for my mother and when we lit it and let it burn for an hour, we didn't smell anything. We took it back to the store in exchange for another of the same scent and, once again, the new one smelled like nothing. Would not recommend this one.
February 7, 2014
Related Searches:
Similar Products:
Also check out:
$39.99

$50 Bonus Gift card with $300 Calphalon Purchase

(81 Reviews)

$22.99 - $25.99
(1 Review)