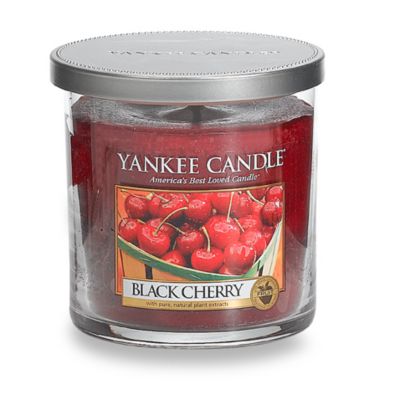 Yankee Candle® Black Cherry Small Lidded Tumbler Candle
Votive burns up to 15 hours.
Small jar burns up to 40 hours.
Medium jar burns up to 90 hours.
Large jar burns up to 150 hours.
Small tumbler burns up to 45 hours.
Large tumbler burns up to 85 hours and has 2 wicks.
Tea lights burn up to 6 hours each.
Wax melts burn up to 8 hours each.
3-wick candle burns up to 50 hours.
Jar wax melt burns up to 8 hours.
Made in USA.
SKU # 16444081
Yankee Candle® Black Cherry Small Lidded Tumbler Candle
4
4
Favorite Scent
This is my FAVORITE scent! Love using it all over the house, get lots of compliments on this scent!
September 18, 2014
SCENT-SORY Overload! :)
I usually don't take the time to leave reviews unless a particular product moves me in a very positive or very negative way. In this case, I'm so in love with Black Cherry that I just have to share my enthusiasm! This is a home run all the way around.... in potentcy, in fragrance duration & it's an excellent scent to utilize if you enjoy mixology! The absolute only thing that could possibly make this better, would be if the tarts came scored such that you could neatly break them in half for mixology purposes. If you're wavering at all about trying this, give it a shot! It's a keeper! :)
October 16, 2013
Rich luscious scent
Black cherry candles are so nice. They have a deep, rich scent that is just heavenly and you wish you could eat them. The fragrance fills your rooms with a dreamy scent.
January 10, 2013
Great fragrance
Loved it. Great fragrance for living room. Recommend highly.
July 20, 2012
Related Searches:
Similar Products:
Also check out:
$1.49

Fragrance of the Month

(25 Reviews)
$27.99

$20.99

Fragrance of the Month

(13 Reviews)

$1.99

Clearance!

(2 Reviews)

$1.99

Clearance!

(1 Review)
$23.99 - $34.99
(1 Review)

$19.99 - $39.99
(1 Review)

$19.99 - $24.99
(1 Review)