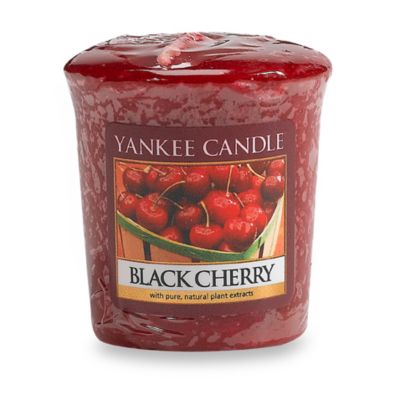 Yankee Classic® Black Cherry Votive Candle
Votive burns up to 15 hours.
Small jar burns up to 40 hours.
Medium jar burns up to 90 hours.
Large jar burns up to 150 hours.
Small tumbler burns up to 45 hours.
Large tumbler burns up to 85 hours and has 2 wicks.
Tea lights burn up to 6 hours each.
Wax melts burn up to 8 hours each.
3-wick candle burns up to 50 hours.
Jar wax melt burns up to 8 hours.
Made in USA.
SKU # 14946659
Yankee Classic® Black Cherry Votive Candle
13
13
Smells like cough syrup
As usual, the quality is excellent, but the scent is terrible! We smelled the lid in the store and liked it, and bought a sampler votive to try. Unfortunately, after burning it for 15-20 minutes, the room smelled very strongly like cough syrup and none of us liked it. We had to air out the room and burn several other scents to get rid of the black cherry scent. Once opened and burned, it still smelled so strong unlit that we had to wrap it in plastic wrap to get rid of the smell. We're glad that we didn't buy a larger size before trying it first!
April 22, 2014
Yankee Votives best so far :D
I had some doubts going in, like is the price gonna be worth the quality and is the quality gonna be better than the cheaper brands. Yankee is running a 50% off on votives and I was near by so i decided to take a chance. Black cherry odor eliminator and purple one i can't remember the name of were my choices and so far the Black cherry lasted me 7 days of every other day usage putting 14 hours on it so far. The smell kicks in within 30 mins and stay their the same after use. So far worth the buck I invested in the candle and would pay $2 when the sale is off. When it comes to strength it fills up my office/bedroom (isn't a master bedroom)with no problem,but not as good as the odor eliminator candle. Compared to lets say walmart votives which come in a 16 pack for 13.99, i got more burn time out of the Black cherry than 3 of the walmart brand. Enjoy the scent, enjoy life, enjoy your money.
April 13, 2014
First time customer, Honest reviews.
How I use them: In a tart burner Rating: 30/100 Thoughts: This was the candle I was looking foward to burning the most. I love black cherry as drinks and scents. I had a lot of enthusiasm going into this one. Smell: I couldn't smell it at all. I was very dissappointed Strength: 1/10 Likes: Pineapple Cilantro, Macintosh, Patchuli, Cranberry chutney, bahama breeze, sage and citrus, pomegranate cider, Mandarin Cranberry, Apple cider, Farmers Market, Blueberry Scone, Lavender Vanilla dislikes: balsam and cedar, vineyard, black cherry, vanilla cupcake, vanilla, Grapevine and oak, midnight jasmine, lilac blossom
September 27, 2013
Great scent and long lasting.
My favorite scent. Long lasting and I do not even have to light the candle. Scent just carries being open. I also make the purchases on line or in Yankee candle stores.
August 2, 2013
yummy
I burn candles on a consent basis. It just a part of everyday life.When my husband of 33 years walks into the house and says thats the best smell ever it said it all.Its a smell that makes you smile.
April 23, 2013
Love my fruit!!
Right now I am mixing all the fruit scents fun!! I usually like fresh or baked, but this change has been fun. Almost none I haven't tried at least 5 of each and then order tons of the fav and this is one for sure.
April 14, 2013
Nice scent - not overwhelming
This was a nice scented votive candle that had a deeper richer cherry smell. I really liked it and will be trying one of the larger jars next.
February 23, 2013
best
im a smoker..when some one comes in my home.thay always say my home smells so nice dont even know i smoke in home...... :)
February 22, 2013
Related Searches:
Similar Products:
Also check out:
$1.49

Fragrance of the Month

(25 Reviews)
$27.99

$20.99

Fragrance of the Month

(13 Reviews)