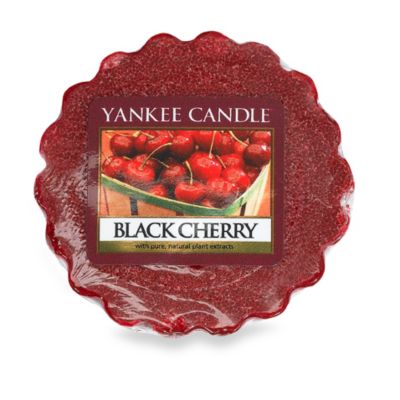 Yankee Classic® Black Cherry Tarts® Wax Melts
Simply place in a Tarts® wax melts warmer (never add water) and light an unscented tea light below, or use one of our electric warmers.
As the wax melts, the fragrance is released. Mix and match scents to create your own personal aroma blends.
Votive burns up to 15 hours.
Small jar burns up to 40 hours.
Medium jar burns up to 90 hours.
Large jar burns up to 150 hours.
Small tumbler burns up to 45 hours.
Large tumbler burns up to 85 hours and has 2 wicks.
Tea lights burn up to 6 hours each.
Wax melts burn up to 8 hours each.
3-wick candle burns up to 50 hours.
Jar wax melt burns up to 8 hours.
Made in USA.
SKU # 14946667
Yankee Classic® Black Cherry Tarts® Wax Melts
31
31
Excellent product
This fragrance is absolutely wonderful! It is long lasting, not too sweet or overpowering. It freshens the entire room. I will always purchase this fragrance, but will try others.
September 7, 2014
Great Quality!
I have melted this tart multiple times over the past three or four days for hours at a time, and it's still going strong. I love using tarts because you don't have to commit to them and you can switch it up frequently. However, Black Cherry is starting to frustrate me (in a good way) because I have to wait to burn this one out before I move on to the next one! While it does smell like cherries, it's a very sweet version of them. I can't take too much of it at one time, but it's pleasant to melt when you're walking in and out of a large room. This is not a smell I could burn right next to me without being overwhelmed. If you enjoy very strong, sweet scents, then this is the one for you.
August 13, 2014
A bowl of cherries
Love this scent. Its fresh, sweet and fills up my entire house! It mixes so nicely with berrylicious.
August 2, 2014
Pleasantly Surprised
I normally don't like cherry scents, but I really like this one. Black cherry has a nice, sweet (not overly sweet) scent to it... and for it to be a cherry scent it surely is relaxing. I love how it quickly fills a room too! Definitely give Black cherry a try!
July 15, 2014
In my top 3
This is one of my favorite scents of all time. I burn this in tart form, as well in the large jar. Very strong throw and lasts a long time. Love it.
June 5, 2014
great smell
This is one of my many favorite scents to melt after a stressful day at school. It has the great black cherry scent I love.
May 28, 2014
My Favorite Strong Scent
This is my favorite Wax Melt. Smells great and fills my living room within 30 minutes. Highly satisfied with it and will buy many more.
May 16, 2014
Best scent ever
I have tried hundreds of different scents over the years, and this is most definitely the king! A lot of cherry scents smell sickeningly sweet or are mixed terribly with almond. I can happily say that this is neither. What you get is a deep cherry scent that is sweet, but nothing overwhelming. If anyone is familiar with Black Cherry Kool-Aid, this smells very similar. The throw on this thing is out of this world and will easily fill a good sized house. I put this on a warmer in the kitchen and the scent was easily detectable in the back of the house, lingering literally everywhere. If you're like me and love strong scents, you owe it to yourself to check this one out! My favorite all time scent!
May 4, 2014
Related Searches:
Similar Products: