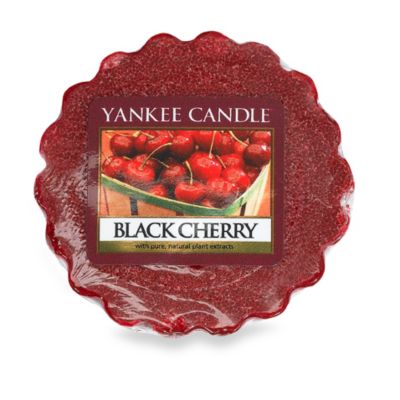 Yankee Classic® Black Cherry Tarts® Wax Melts
Simply place in a Tarts® wax melts warmer (never add water) and light an unscented tea light below, or use one of our electric warmers.
As the wax melts, the fragrance is released. Mix and match scents to create your own personal aroma blends.
Votive burns up to 15 hours.
Small jar burns up to 40 hours.
Medium jar burns up to 90 hours.
Large jar burns up to 150 hours.
Small tumbler burns up to 45 hours.
Large tumbler burns up to 85 hours and has 2 wicks.
Tea lights burn up to 6 hours each.
Wax melts burn up to 8 hours each.
3-wick candle burns up to 50 hours.
Jar wax melt burns up to 8 hours.
Made in USA.
SKU # 14946667
Yankee Classic® Black Cherry Tarts® Wax Melts
27
27
In my top 3
This is one of my favorite scents of all time. I burn this in tart form, as well in the large jar. Very strong throw and lasts a long time. Love it.
June 5, 2014
great smell
This is one of my many favorite scents to melt after a stressful day at school. It has the great black cherry scent I love.
May 28, 2014
My Favorite Strong Scent
This is my favorite Wax Melt. Smells great and fills my living room within 30 minutes. Highly satisfied with it and will buy many more.
May 16, 2014
Best scent ever
I have tried hundreds of different scents over the years, and this is most definitely the king! A lot of cherry scents smell sickeningly sweet or are mixed terribly with almond. I can happily say that this is neither. What you get is a deep cherry scent that is sweet, but nothing overwhelming. If anyone is familiar with Black Cherry Kool-Aid, this smells very similar. The throw on this thing is out of this world and will easily fill a good sized house. I put this on a warmer in the kitchen and the scent was easily detectable in the back of the house, lingering literally everywhere. If you're like me and love strong scents, you owe it to yourself to check this one out! My favorite all time scent!
May 4, 2014
Nice, not too overpowering
I used to use tarts several years ago with a tea light candle burner and just got back into them this past fall with an electric burner (I think the electric burners are SO much better and safer). I went to my local Yankee Candle store to try out some spring/summer scents. I prefer fruity over floral so this is one of the scents I bought. I was a nice smell, not to overpowering or sickly sweet. For me this is one I couldn't burn everyday, I'd get tired of the smell, but it's nice for a change of pace and my husband liked it.
April 5, 2014
A big plumb juicy black cherry
I felt like it lasted good while everytime I smell it I want a bag of fat juicy black cherries smells great
March 31, 2014
Yum!
This is a fruity, yet neutral scent. It's strong enough, but not overpowering. I just recently bought my 1st warmer (electric), and couldn't be more happy that I did. I love being able to frequently change scents, and if you use a plastic spoon, it's easy to pop the hardened tart out. I LOVE this scent, and will definitely get it again!
February 22, 2014
Not overly sweet
Black cherry is definitely on the more natural cherry side, not overly sweet. The throw was very good, saturated our small open concept house fairly well. Both myself and my husband enjoy cherry anything, but it was just ok for us. We both much prefer Cherries on Snow, as we personally prefer a sweeter more dessert-like cherry aroma. Black Cherry would be good for someone who likes cherry fragrance without added sweetness.
January 17, 2014
Related Searches:
Similar Products:
Also check out:
$1.49

Fragrance of the Month

(29 Reviews)
$14.99

Free Standard Shipping

(5 Reviews)

$44.99

$29.99

Clearance!

(1 Review)