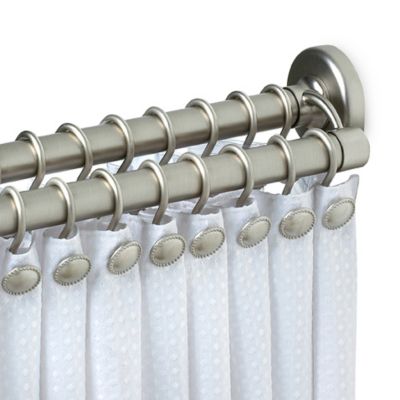 Zenith Satin Nickel Double Tension Shower Curtain Rod
This double tension rod features end caps for a clean finished look that compliments all bath decor and a rust-resistant brushed nickel finish.
Tension rod also features TwistTight® Premium Technology.
Holds strong in two easy steps- just extend and twist to lock in place.
Tested to hold 30 pounds with proper installation on standard drywall.
Design includes optional screw mount installation and hardware is included for drywall installation.
Fits all standard tubs 44" to 72".
SKU # 16843741
Zenith Satin Nickel Double Tension Shower Curtain Rod
7
8
Rusted Garbage
Avoid this store. It sells over priced cheaply made junk. Bought this relatively expensive curtain rod expecting many years of service and it totally rusted out in about 8 months. The underside of the rods are pitted and rusting out. Even the paint on the plastic end caps is peeling off. This is ridiculous. The fixtures in my shower are 30 years old and show no signs of rust and this newly acquired curtain rod rusts out in under a year! Got a feeling these rod were merely painted satin nickel. No more BED BATH & BEYOND for me.
July 4, 2012
rusts right away
all the reviews about this product rusting are true. I have not had the curtain rod very long and now it is very rusty. I had to make holes in my tile to install it now if I get another type it may not cover those holes. Not happy with this product at all.
June 14, 2012
not so great
This rod started rusting within weeks of getting it and after 9 months, it's totally covered in rust and is getting rust on our shower curtain. It's a sturdy shower rod but the fact that it gets so rusty is a deal breaker for me. I wouldn't recommend this product to anyone looking for a new shower curtain rod.
May 11, 2012
Hardly Rust Proof
Within just a few weeks rust spots formed and now the entire rod is rust-covered, even with weekly cleanings. I am severely disappointed in this double rod as it is one of the few I have found that will fit our tub space. I would not recommend this product at all.
June 18, 2011
I like it
I really like this product. I've had it for over a year without a problem. I love to be able to have the liner and the actual curtain all in one rod. I don't know why the other reviewer had a rust problem with it. Maybe it was defective.
April 3, 2011
rusts terribly
For the price of this rod i expected it not to rust. This rod rusted so quickly I now am trying to find a cover for it. I tried the Hotel style rod and that didn't work in my bathrrom I had high hopes for this. DO NOT BUY IT!!!!!!!!
December 28, 2010
Looks nice... for about a week. RUSTS Quickly
This rod looked nice for the first week to 10 days and then I noticed a few small rust spots on the top of the rod where condensation rests after a shower. Now, a month later, I have returned the rod. It is totally rusted and has ruined my curtain hooks and stained my curtain. Not worth it at all.
October 26, 2010
Related Searches:
Similar Products:
Also check out:
$12.99

Exclusively Ours

(9 Reviews)
Twin $49.99 - King $69.99
(1 Review)