ZeroWater® 23-Cup Dispenser
The ZeroWater® filtration system combines five sophisticated technologies that work together to remove virtually all dissolved solids from your tap water, delivering you great tasting water.
The dispenser features a one-hand pull and pour button spout, easy-access to refill your pitcher while it's still in the fridge, a zero stale water features so it completely dispensers all water, and a built-in TDS meter.
This 23-cup system comes with the largest capacity filter dispenser on the market today, a patented Ion Exchange filter, and a laboratory-grade water testing meter.
Measures 11 1/5" H x 6" W x 15 1/5" D.
SKU # 17846442
ZeroWater® 10-Cup Pitcher
Still just filtering with Brita?
Why? Brita can't do what Zerowater does. Eliminate virtually all dissolved solids.
Because Brita has only two stages and Zerowater has five.
Don't just filter your water. Zero it!
Related Searches:
Similar Products: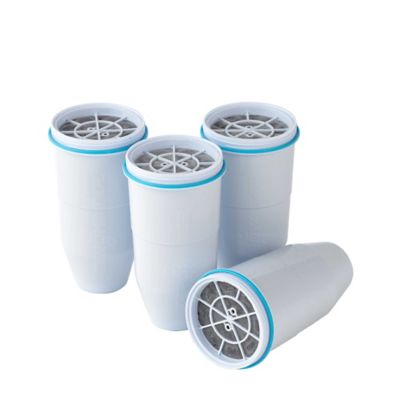 ZeroWater® 4-Pack Replacement Filters
Price:
$49.99
Brand:
ZeroWater
Categories:
College > Eat > Water Filtration
Use these replacement filters with the ZeroWater® 10- or 23-cup pitchers to remove 99.99% of water impurities. These filters remove virtually all the dissolved solids in tap water.