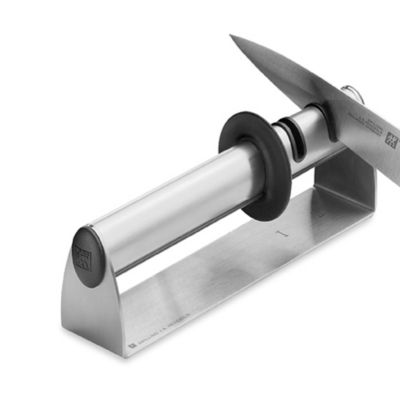 Zwilling J.A. Henckels Duo Knife Sharpener
Module 2 gently keeps the edge smooth and restores the knife to its high sharpness.
Sharpener works equally for left- and right-handers.
Non-slip tabs on base keep sharpener secure.
Lifetime manufacturer's guarantee.
SKU # 12890451
Zwilling J.A. Henckels Duo Knife Sharpener
2
3
Great for a novice like me
I've tried to sharpen my knives with the sharpen in the knife block, and no matter what I do, I can't seem to get my knives sharp. I'm sure I'm doing something wrong, but I can't figure it out. I like this tool because it takes the guess work out of knife sharpening. The handle and guard are great for stability and safety while in use. I can't really complain about anything with this product. My knives are sharp now and I can stop being frustrated with this process.
June 9, 2014
Easy to use
My Henckels knife set came with a sharpening tool however, I never seem to get the knives sharp. The last time my knives were sharpened was three years ago when my brother visited. I decided to buy this sharpener and am very please with the product. I was not afraid that I will cut myself while sharpening the knives, and all the knives are now sharp. Gave 4 stars because base could be a little heavier and larger non-shift pads. Sharpener did shift while using, not strong enough to hold it down
May 6, 2014
Related Searches:
Similar Products:
Also check out:
$9.99

Beyond Value

(29 Reviews)

$49.99

$50 Bonus Gift card with $300 Calphalon Purchase

Beyond Value

(65 Reviews)

$10.99

Free Standard Shipping

(197 Reviews)
$9.99 Each

Beyond Value

Exclusively Ours

(28 Reviews)

$7.99 - $19.99
(6 Reviews)

$39.99

$31.99

Clearance!

$50 Bonus Gift card with $300 Calphalon Purchase

(5 Reviews)
Twin $179.99 - Queen $299.99

$39.99

Clearance!

Exclusively Ours