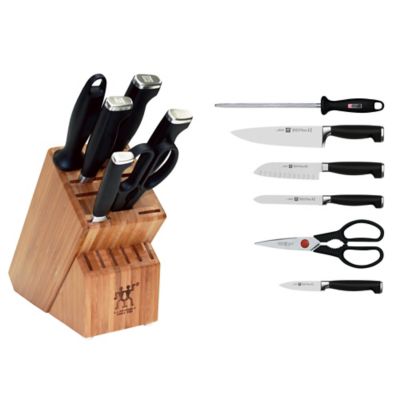 Zwilling J.A. Henckels Four Star II 7-Piece Cutlery Set
The Zwilling J.A. Henckels Four Star II 7-Piece Cutlery Set features proper balance and greater strength is achieved with a full rat tail tang, while the super bolster provides weight, and insures safety and balance
The Friodur ice hardened steel has maximum no stain properties and more blade strength, plus improved resistance to corrosion and pitting
Western style design
Knives are non-rusting and non-staining and are hand-honed
Polypropylene handles have the stainless steel logo on the cap and are bonded for seamless accuracy
Dishwasher safe
Lifetime manufacturer's warranty
SKU # 14250654
Zwilling J.A. Henckels Four Star II 7-Piece Cutlery Set
5
6
Worth every single penny!
I cannot begin describe the importance of nice knives. These knives make dinner preparation a breeze! They are very sharp and the handle contouring makes it very easy to handle. I never mind chopping vegetables now! This is a MUST product for your kitchen.
November 5, 2012
Four Star II
I opted for this set rather then the 15 piece Four Star II block set because the steak knives in the 15 piece set are not Four Star II knives. So I bought this set and ordered the Four Star II steak knives and a 6" chef's knife as well. These are great knives!! The handles are smooth and comfortable, and well balanced. I have read reviews on line from others wondering why there aren't enough knives in some of these sets to fill all the slots in the blocks, its so you can order additional knives and have room for them in your block. Same goes here. You're going to spend a little extra $$ for these knives but you will notice the difference.
January 9, 2012
awesome set of knives
We registered and received this off our registry. We used this for the thanksgiving dinner we hosted and they are wonderful!! I have never used such sharp knifes. The knifes are heavy and very durable. It cut the turkey like it was butter!! I cannot wait to collect all the steak knives and the rest of the collection. I would highly recommend this set of knives...These even beat out my Pampered Chef Knives!!!
November 26, 2011
Best knives I ever used
My wife and I bought this set of knives about 8 months ago from Bed Bath and Beyond. We liked the knives so well that we bought all the knives in the Four Star ll collection. Now we are buying two more sets for each of our daughters. The Zwilling J.A. Henckels web site has some great videos about honing, sharpening and caring for their knives. I highly recommend these knives. I am not sure about them being dishwasher safe. We always hand wash and dry the knives so that they are ready for the next use. Good Luck with them and hope you like the knives as much as we do.
October 8, 2011
Pricey but worth it!
I purchased this set of knives about 6 months ago and they get used. I bought them to replace the various different knives we have purchased over the years because they just wouldn't hold an edge. I was always having to sharpen them before I could use them and they still weren't very sharp. I have been using these knives almost daily now (mostly the chef and santuko knives) and have yet to have to sharpen them! The only complaint I can come up with is they are NOT dishwasher safe. I hand wash them after use. After the issues I had with my old knives, this is a very minor issue.
October 2, 2011
Related Searches:
Similar Products:
Also check out:
$39.99 - $49.99
(3 Reviews)

$199.99

$50 Bonus Gift card with $300 Calphalon Purchase

(62 Reviews)
$24.99

Beyond Value

(20 Reviews)

$399.99

$50 Bonus Gift card with $300 Calphalon Purchase

(99 Reviews)

$89.99 - $129.99
(53 Reviews)

$49.99

$39.99

Clearance!

$50 Bonus Gift card with $300 Anolon Purchase

$75 Bonus Gift card with $400 Anolon Purchase

Price reflects 20% instant rebate

(3 Reviews)

$6.99 - $14.99
(5 Reviews)