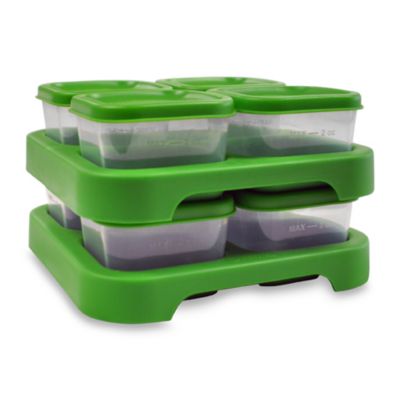 green sprouts® by i play.® Polypropylene Freezer Cubes (Set of 8)
Each polypropylene container comes with a lid and holds up to 2 oz. of puree
Lids snap closed for easy on-the-go storage
Trays are stackable, and both trays and lids are interchangeable with the green sprouts® by i play.® glass freezer cubes
Includes two 4-section trays, 8 polypropylene containers and 8 lids
BPA-free
Top rack dishwasher safe
SKU # 17703250
green sprouts® by i play.® Polypropylene Freezer Cubes (Set of 8)
8
9
AWESOME
These cubes should inspire you to make your own baby food and store it. I LOVE using these. They are so easy to take on trips, send to daycare and any other creative use you might come up with! They hold up very well in the dishwasher and store neatly in my cabinet. Also, iplay's customer service is IMPECCABLE! Yay for polypropylene cubes!
August 18, 2011
Perfect for homemade baby food.
I've just started my 6 month old on solid foods and bought these since I'm making all his vegetables at home. These have nice measuring lines (in ounces and in mL). Easy to clean, lid snaps securely, and the trays are not bulky and they are easy to stack. People may prefer glass over plastic, but I find these do the trick. We've only been filling them halfway (about 1 oz) and that's been plenty of food for now, but when my son gets bigger I think it'll be nice to have a slightly larger storage option.
July 2, 2014
great
Stack well in the freezer. I use them for fruit that will not have to be heated. I use the glass containers if I will neeed to heat. I have both the glass and the plastic in my freezer for a complete menu
March 27, 2013
The BEST!
These are the best baby food storage containers!!!
November 14, 2012
Perfect Containers!
I consider these to be like Tupperware for baby food storage! They are awesome. The lids fit without popping off or leaking and they are perfect for freezing. I've encountered other baby food storage containers that are worthless but these are fantastic! They are also a great price and they are BPA free!
June 6, 2011
The Best Containers!!!!!
I make my own baby food, which I looooove to do, and I was having a really hard time finding the right containers for storage. I found this and fell in love with them and the price as soon as I saw them. I purchased one set to test them at home and it has been the best purchase I have ever made. They are free of any yucky stuff (BPA, PVC) and they are really functional: stack easily and neatly in the freezer or refrigerator, don't drip on the go, are great for direct feeding, storage a good amount of food, easy to clean. They are just the best. I recommend them 110%. Have fun making your baby food :)
April 26, 2011
Best for homemade food storage
These are the best containers I have found for homemade baby food. I make many bulk batches of baby food and have tried lots of different containers. I like these, because the lid is very tight. It doesn't pop off when frozen like many others I have tried. They stack steady in the freezer. It is easy to feed your baby from the container. They sit steady on a table or tray and open wide making it easy to spoon out to baby. It also works very well when taking food to go for trips to Grandmas, or the zoo. They do not pop open or leak out when bounced around in your bag. The price is about middle of the road. It is a little expensive to have four or five sets, which is about how many I need to keep my baby stocked up with a variety. If you are going to go homemade, I strongly suggest these containers.
April 1, 2011
Great product, Great Price
I really like these alot. They are compact, and store easily. Can be frozen or refrigerated. They are BPA free and over all just great for someone who makes their own baby food! Price is fantastic! My only qualm is that the lids are not easy to snap on.
January 1, 2011
Related Searches:
Similar Products: