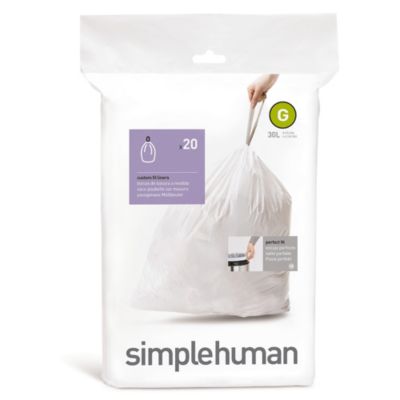 simplehuman® Code G 20-Pack 8-Gallon Custom Fit Liners
Bags come in dispenser packs for easy dispensing
Custom fit liners fit perfectly inside simplehuman trash cans with no bag overhang
8 gallon/30 liter capacity
These durable plastic bags have double seams to prevent rips and tears
Drawstring handles make liners easy to lift, tie and carry
Includes 20 liners
Code G
SKU # 12288514
simplehuman® Can Liners
A perfect size for every can. SimpleHuman custom fit liners are tailored to fit perfectly so the bag stays completely hidden when the lid is closed.
Highly durable and slip free, our liners come in seventeen different sizes and counting to work perfectly with our entire range of products.
simplehuman® Code G 20-Pack 8-Gallon Custom Fit Liners
10
11
perfect fit
These bags perfectly fit the trash can. And I can put them right next to it so there is no excuse not to put a bag in.
November 7, 2014
This product is too small!
It's too small for the intended can size; much too difficult to fit on and remove.
March 11, 2014
Strong simplehuman 20 pk custom fit can liners.
These can liners are strong and fit the simplehuman can just right. I am on my third package and have yet to have any break or leak on me.
September 13, 2013
happy with product
love the simple human indoor trash can and the liners fit well and are easy to use.
May 9, 2013
Best Garbage Bags Hands Down
Sturdy, great fit, and works with most of my big cans.
January 31, 2013
Solved a Space Problem
The liner bag fits the can perfectly and snugly, eliminating wasted space from larger or different-shaped bags. It is study and has handle ties. I can't remember how much I paid for the bags--I am nearing the end of a 50-count box, and I use about 1 bag per week in my small household--but they are worth whatever I paid. I have to agree with other reviewers that I am disappointed that the 50-count box is not available online, especially when I was hoping to use an online coupon today to purchase another one! The can itself fits perfectly in a tight spot in my small kitchen, solving a long-time space problem. I now can use my under-the-sink space for more storage. I have to move the can occasionally to remove the bag or get to a little-used cabinet, but it is very lightweight.
April 2, 2012
Where's the 50 count box
I like these liners. They fit the can precisely. Please start selling the 50 count box again. It is more convenient, especially when the local store is far away.
March 27, 2012
Love the trash cans and liners BUT
I don't like that you don't have G online in the 50 ct.
December 9, 2011
Related Searches:
Similar Products: