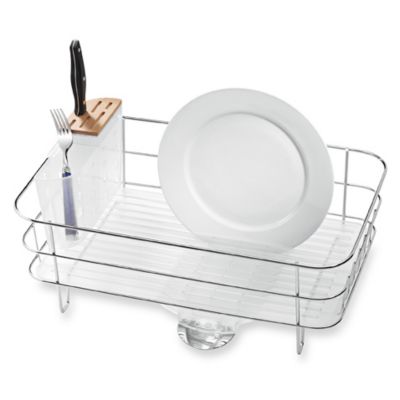 simplehuman® Slim Dish Rack
Made from rust-proof stainless steel and ABS plastic parts
Won't rust and gentle on dishes
Two-cup cup holder can be placed anywhere on the rack
Convenient utensil holder and natural bamboo knife block stores knives safely
Measures 19 1/2" W x 14 1/2" D x 8 1/3" H
SKU # 16482587
simplehuman® Slim Dish Rack
21
21
Holds more than I thought it would
Really great dish rack. Holds more than I thought it would. Doesn't take up much room and my sink is above my counters so I need a dish rack that will go over the lip of the sink to drain. This is terrific for my kitchen.
August 18, 2014
Holds a lot!
Only have owned it for a few weeks, but love this dish rack. My sink is higher than my counters so I need a rack that will be higher than the lip of sink and this does the trick. Holds more than I thought it would.
August 12, 2014
Use VINEGAR to clean it!
I find most of these reviews hilarious. For those complaining about hard water stains and rust, it is most likely because you have a lot of minerals and chemicals in your water--that's not a fault of the product. Normal water shouldn't cause rust on this and cleaning with vinegar should take care of the hard water. The little silver cup lip pulls out if you want to soak it in vinegar and the bottom clear plastic catcher that the silver lip attaches to also pops out--extremely easy to disassemble without breaking it. This is the only rack system I know of that elevates off your counter and still drains properly. It looks clean and modern. Lastly, I can fit it in one of my lower cabinet drawers when not in use--I have the drawer lined using the clear, ribbed Lifeliners--also excellent. It could be priced for less but the 20% off coupons help.
February 28, 2014
Poor quality... too difficult to clean.
It's going in the trash and the only thing I'll miss is the knife drying block. I have a water softener, so it's not a calcium issue. The plastic and the drain become corroded and simply cannot be cleaned after a year... even with regular cleaning. I don't like the appearance of Rubbermaid racks, but they're the easiest to keep clean. Maybe the answer is the new Oxo racks...
January 12, 2014
A lot of drying space, small footprint
Very nice design for drying a lot of dishes in different shapes and sizes. The knife block and 2 cup drying piece make it very functional. It is very difficult to clean the bottom where the water drains. It becomes unsightly with hard water deposits and discoloration of the plastic. I end up breaking the draining channel and tape it to hold it together so I can keep using it. I like the slim footprint with a lot of drying space, so in spite of the cleaning issue, I am considering getting a new one after 4 years with the one I have.
December 17, 2013
Beautiful at first but doesn't last long
My husband and I received this dishrack 2 years ago for our wedding. Unfortunately, we have also had problems with the run-off drain. It does not remove so we almost broke it in the process just trying to clean it. Build-up happens very easily and because it's clear, it's very easy to see anything remotely discolored. I contacted Simple Human and since there is a 5 year warranty, they sent me a UPS label and are re-sending me the rack. I'm happy about that but wish they would send me a different rack instead. I don't recommend anyone getting this - go with a different color at least. You'll have a really hard time cleaning this one!
February 7, 2013
Re: cleaning issues
I've had this dish rack for ~6 months. We have very hard well water and the rack does become discolored with hard water spots and rust.....especially near the drain spout. I've cleaned it once (in all this time) by soaking it in straight white vinegar for a minute or two and then cleaning it with a bottle brush. The deposits come off easily. I would not want the cleaning issues to deter anyone from purchasing this product.
December 8, 2012
Two homes - two simple human dishracks
Great rack! Sits above counter and drains into sink. Stainless doesn't rust. No more cheap racks!
October 25, 2012
Related Searches:
Similar Products:
Also check out:
$24.99 - $29.99
(54 Reviews)
$9.99 - $14.99
(27 Reviews)

Twin $79.99 - King $129.99
(14 Reviews)