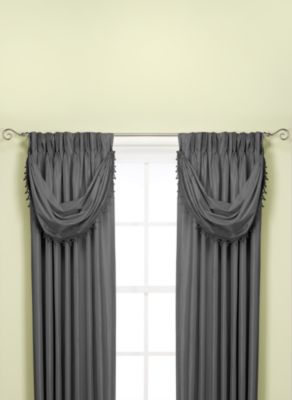 Argentina Crescent Window Valance
The pre-pleating provides generous and easy hanging folds for a professional appearance and the back tabs let you hang the panels on a decorative rod
Due to a cotton flannel interlining the panels block out over 98% of light, giving you a good night's sleep, plus the panels help to reduce unwanted outside noise
Stylish and soft to the touch, these energy-saving insulating panels can also help you save money on your heating and air conditioning bills
Panel face is 52% polyester/48% nylon with a lining of 65% polyester/35% cotton and a 100% cotton interlining
Panels are sold individually and measure 26" W
Requires 9 clip rings or hooks, or can be hung on a rod
Fits up to a 1 1/4" in diameter rod
Dry clean only
Imported
Argentina Crescent Window Valance
3
4
Not all that & a bag of chips
Unfortunately these panels did not live up to the hype of its description. Besides not looking as good in person as they do in the pictures, they weren't really true to size and were shorter than they should have been. Also, they do not appear to be actual "black-out" panels. Granted, I got the white ones but still...if they're advertised as black-out panels then that's what I expect to get. Also, the width measures out much shorter than you'd expect. I initially thought I needed 2 panels per window but turns out I needed 3 in order to cover the entire window. This mean I had to spend more money on a panel I am not in love with. I like it, but I'm not in love with it. Don't believe the hype!
March 5, 2014
Elegant and Superior
We absolutely love the quality of the fabric of these elegant draperies. They are superior to the custom draperies we had prior to purchasing the Argentina draperies at BBB. Unfortunately, there were no matching valances for these draperies available at the BBB stores in our area so we had to opt for a Florence valance which was in stock.
January 3, 2013
Wish these were carried in the Stores
I've purchased the panels from a BBB store, but they had absolutely no valances available. A big mistake in my opinion. I like the valances. A good value, but there should be some in the stores.
March 14, 2012
Ask your questions. Get answers from the community.
Ask your questions. Share your answers.
Posted by
Polly
CA
2 weeks, 5 days ago
0
out of
0
found this question helpful.
Was this answer helpful?
helpful
0
unhelpful
0
http://answers.bedbathandbeyond.com/answers/2009/product/3171791/question/1902515/undohelpfulness.djs?format=embeddedhtml&sessionparams=__BVSESSIONPARAMS__&return=__RETURN__&innerreturn=http%3A%2F%2Fanswers.bedbathandbeyond.com%2Fanswers%2F2009%2Fproduct%2F3171791%2Fquestions.djs%3Fformat%3Dembeddedhtml%26scrolltotop%3Dtrue%26expandquestion%3D1902515&user=__USERID__&authsourcetype=__AUTHTYPE__&submissionparams=__BVSUBMISSIONPARAMETERS__&submissionurl=__BVSUBMISSIONURL__
Answers
Answer: 
No, the Argentina Crescent Window Valance is not available in other lengths.
Posted by
Additional information about CustomerServ6 could not be loaded.
1 week, 6 days ago
0
out of
0
found this answer helpful.
Was this answer helpful?
helpful
0
unhelpful
0
http://answers.bedbathandbeyond.com/answers/2009/product/3171791/answer/1858517/undohelpfulness.djs?format=embeddedhtml&sessionparams=__BVSESSIONPARAMS__&return=__RETURN__&innerreturn=http%3A%2F%2Fanswers.bedbathandbeyond.com%2Fanswers%2F2009%2Fproduct%2F3171791%2Fquestions.djs%3Fformat%3Dembeddedhtml%26scrolltotop%3Dtrue%26expandquestion%3D1902515%26expandanswer%3D1858517&user=__USERID__&authsourcetype=__AUTHTYPE__&submissionparams=__BVSUBMISSIONPARAMETERS__&submissionurl=__BVSUBMISSIONURL__
Related Searches:
Similar Products: