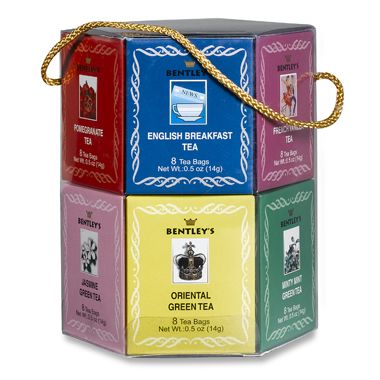 Bentley Hexagon Tea Sampler
You get 8 bags each of 12 assorted premium quality Ceylon Teas, including: English Breakfast, Pomegranate, Key Lime, Blueberry, Orange Spice, French Vanilla, Oriental Green Tea, Raspberry Green Tea, Jasmine Green Tea, Minty Mint Green Tea, Mango Green Tea and Earl Grey Green Tea.
Package has a convenient decorative rope carry handle.
SKU # 14254676
Bentley Hexagon Tea Sampler
4
4
I wish I had purchased more!
I wish I had bought more than one of these! I have been brewing it then making iced tea and it's all I have been talking about. I cannot find this tea now in a store, so I hope that I will be able to purchase more next Christmas. I highly recommend this to anyone who likes a light flavored tea and who likes a variety of flavors.
January 12, 2014
Cute but Tasteless
Got this as a cute Christmas gift, but the teas are so weak that there is almost no detectable flavor (or odor). I experimented by steeping the most flavorful tea I could find, Holiday Spice, for an hour and would not have guessed any of the spices in a blind taste test. Slightly bitter water? I gave it away to my colleagues and the best review I got was that it was "fine." If your loved one actually likes tea, probably don't go with the brand that gives you a years' supply for five dollars. Ask for their favorite type and spend the five dollars on one nice pack.
December 27, 2013
I buy one each for my 30 year old and 15 year old daughters every Christmas. It has become a tradition. They love the tea and I like to share. And, I love a good value.
December 12, 2013
Fabulous
My Aunt got me a trio of Bentley's tea one year and then last year I found this sampler and bought multiple for gifts. I love the taste of the tea and the choices!
December 18, 2010
Related Searches:
Similar Products: