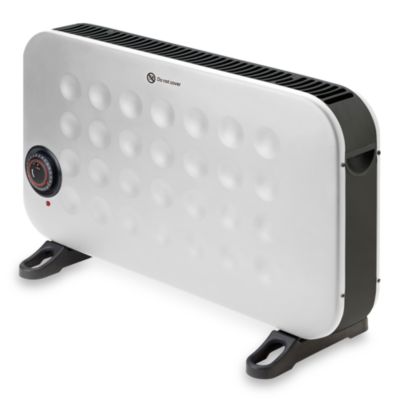 Crane Convection Compact Heater in White
Features two rocker switches (each 750 watts for a total wattage power of 1500) with "on" indicator lights, a warming fan to quickly heat up a room, and overheat automatic shut off protection
Adjustable thermostat switches the unit off when desired temperature is reached, and turns on automatically to keep the air temperature as set
Convection heat helps prevent dry air and has whisper quiet operation
Measures: 3.9" x 23.6" x 13.8"
1-year manufacturer's warranty
Model EE-8068
SKU # 18639300
Crane Convection Compact Heater in White
4
4
inoperable fan right out of the box
Can you imagine a heater without a fan---that is what we uncrated!! Enough said.
March 17, 2014
Crane convection compact heater
It is perfect for our bathroom. It heats the place up in minutes and it takes up little space.
March 12, 2014
Great heater
We've been using this in our kids room for a year now with no problems. It heats the room quickly without the drying effect of forced air and it's easy to control the temperature after a few days of getting used to it. My only complaint is that is doesn't have a digital thermostat but that's not reasonable for a $50 heater. We're buying another one now for our room. I highly recommend based on our experience.
December 4, 2013
Crane space heater is hot!
this unit gets extremely hot on both sides. Would be nervous to have it in a room with young children, elderly,etc- works fine but doesn't really emit heat, even with fan running. I've tried it for 2 days in my sunroom but likely will return it.
March 6, 2012
Related Searches:
Similar Products:
Also check out:
$269.99

Exclusive Color

(2 Reviews)

$5.99

$50 Bonus Gift card with $300 Calphalon Purchase

(4 Reviews)

$24.99 - $29.99




$19.99 - $23.99

Clearance!

(6 Reviews)

$12.99

Free Standard Shipping

(10 Reviews)

$27.99 - $39.99
(10 Reviews)

$11.99

Free Standard Shipping

(7 Reviews)

$5.99

$50 Bonus Gift card with $300 Calphalon Purchase

(1 Review)