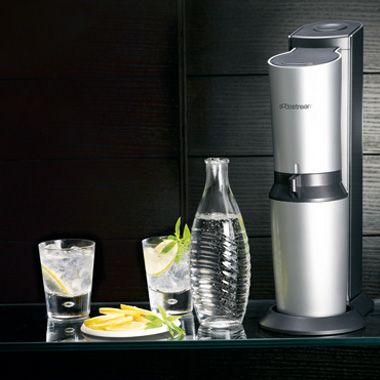 SodaStream Crystal Soda Maker
Fizz and flavor to your taste, without high-fructose corn syrup or aspartame
Enjoy sparkling water freshly crafted in elegant cut-glass carafes, or create your own regular and diet soda and energy drinks
Contemporary design and smooth ergonomics to welcome you to the future of soda
Automatic access gas release mechanism
Customized carbonation level
Easy to clean stainless steel housing
Includes home soda maker, one reusable 14.5 oz./60L CO2 carbonator, and one glass carafe with a fizz-preserving stopper
Compatible only with the 14.5 oz./60L carbonators
Measures 4.5"L x 8.5"W x 18"H
Two-year manufacturer's warranty
Model # 1016511011
Note: This product requires a customer signature upon delivery
SKU # 17820893
SodaStream Crystal Soda Maker
5
5
Sodastream Crystal Soda Maker is FABULOUS!!!
I was getting tired of lugging glass mineral water bottles from Whole Foods, not to mention all the recycling, so it was time to purchase one of these machines. My neighbor has a different model and loves it, so going on her recommendation started my research and decided to purchase the Crystal model and extremely happy I did. It's a nice looking unit that looks great on my kitchen counter and is extremely easy to use. I keep plain, cold water in the fridge at all times so that I can just rotate that in w/the use of the machine. I have a good system going now and pretty much only drink mineral water, so this was the best early birthday present I could have given myself. I love to add my Young Living essential oils, such as lime, citrus, orange, tangerine and citrus fresh to my drinks. Sometimes I add organic vanilla or organic almond extract flavorings to get a different taste. Try food grade orange oil and vanilla flavoring and you have orange creme soda au naturel!!! Such a healthy alternative to canned, sugary, unhealthy soda's. Gave those up years ago and was happy to discover this new treat. I have nothing but praise and 5 STARS for this SodaStream machine. Only had it a week, so time will tell.
June 9, 2014
Great Design
This is so much better than the 2 other soda makers that I have had ..I had 2 of the cheaper models and they both blew up.. along with the bottles ..so I decided to go with the glass bottles instead..this one is made very well and it is designed safe..Love it !!!
March 18, 2014
Does what is should but is hard to operate
We were gifted this soda stream machine which I love the idea of. I drink sparkling water all the time so this really cuts down on bottle/can waste! Plus my water never gets flat and it saves us money. The glass is very nice - I definitely prefer it to the plastic we saw in-store. The soda stream was easy to assemble and I understood immediately how to use it. My biggest problem is that it requires 2 hands to operate and can be quite challenging. The knob to lock the unit closed during carbonation is very hard to move. It is similarly difficult to unlock.
February 3, 2014
Such an upgrade!
I've owned the Sodastream Jet (I think that's what it's called) for 5 years and finally got fed up with not being able to use hot water on the plastic bottles so I decided it was time for an upgrade. The Penguin's styling didn't go over well in my house, but the Crystal fits right in. Feels very solidly made and having glass bottles that can go in the dishwasher speaks to the clean-freak in me. Love their products!
January 27, 2014
Does the job very well
I read reviews on other sites before buying the Crystal Soda Maker. There were complaints that they couldn't get a good seal when the latch was closed. On my machine, the latching mechanism is a little stubborn, but once it's closed, the charging works as expected and the water is nicely carbonated. The glass bottle keeps the carbonation very well. I like glass better than plastic, and I'm glad I bought this one!
September 13, 2013
Related Searches:
Similar Products: