Verilux® HappyLight® 5000 Lux Energy Lamp
LUX is the amount of light you get when the source of light is placed one foot away from you
Energy efficient bulb uses only 36-watts to produce 300-watts of light
No harmful UV rays
Easy to use flip-switch on base provides control of preferred level of brightness using high/low settings.
Light bulb offers a life of up to 10,000 hours
Electronic ballast and Flicker Elimination Technology® provides no-buzz operation and instant, flicker-free illumination
Plastic housing includes 8' L power cord
Measures 5 3/5" W x 4" D x 12" H
1 year warranty
UL listed
Imported
SKU # 18531186
Verilux HappyLight 6000 Lux Energy Lamp
Do you experience low energy, fatigue, difficulty sleeping and waking or an increase in cravings during the winter months or how about when you don't get enough time outside? If so, you may be experiencing the winter blues, and you're not alone. As many as 1 in 7 Americans suffer from winter blues, which is believed to be caused by a lack of exposure to natural sunlight. Winter blues can affect mood, energy, sleep, appetite and more. Even in southern climates, the winter blues can affect people when they don't get enough exposure to daylight. Studies have shown light therapy to be an effective, drug free and chemical free approach to addressing the symptoms of winter blues, and the HappyLight 6000 energy lamp by Verilux provides full spectrum bright light, the most studied and proven form of light therapy. The Verilux HappyLight 6000 energy lamp provides up to 6000 LUX of natural spectrum daylight to gently help the body recalibrate and stabilize, reducing fatigue and lethargy and helping to improve focus and concentration while curbing the cravings for sugar and other carbohydrates. Not enough windows at work? Your HappyLight 6000 is perfect for improving energy, alertness and productivity in the workplace and any time getting outside isn't possible or practical. According to Dr. Norman Rosenthal, former senior researcher for the National Institute of Mental Health and the author of Winter Blues, people with low energy, fatigue or the winter blues may expect to benefit from light therapy. Although it varies from person to person, most feel the effects of light therapy within 2 to 4 days. The HappyLight 6000 energy lamp has a sleek, space saving design that's ideal for the home, office or dorm room. These handsomely styled modern lamps come with flicker elimination technology and no buzz operation that provides quiet illumination without undue eye strain and fatigue. And easy to use flip switch at the base of the lamp lets you set your preferred levels of brightness and intensity. The HappyLight series features patented energy efficient, natural spectrum bulbs which emulate natural daylight without harmful rays. While individual usage times and results will vary, for many people just 30 to 60 minutes a day with your HappyLight 6000 energy lamp is enough to experience improved energy, mood and concentration naturally. HappyLight energy lamps from Verilux. Life in a better light.
Related Searches:
Similar Products: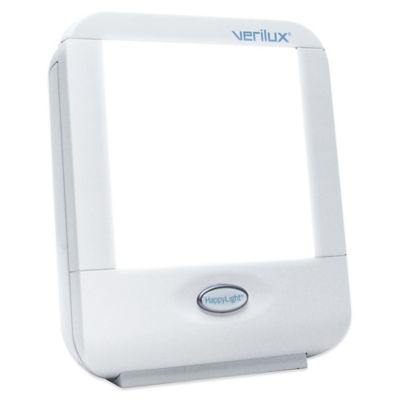 Verilux® HappyLight Liberty 5K Natural Spectrum Energy Lamp
Price:
$39.99
Brand:
Verilux
Categories:
Holiday & Gifts > Gift Shop > Gifts for the Tech Lover
The Verilux HappyLight Liberty 5K Natural Spectrum Energy Lamp can help you fight fatigue, regain focus, and improve your mood. Use it at home, at work or wherever you need energizing light that will reduce eyestrain and boost your energy.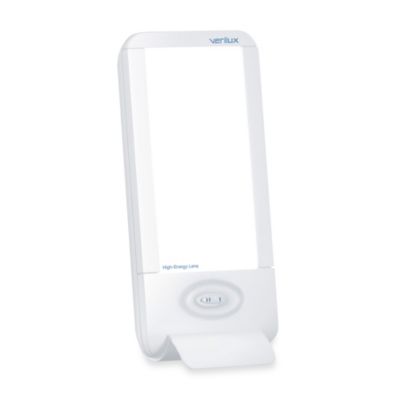 Verilux HappyLight Liberty Natural Spectrum Energy Lamp
Price:
$99.99
Brand:
Verilux
Categories:
Home Decor > Lighting > Novelty Lighting
The HappyLight® Liberty Energy Lamp from Verilux® provides powerful, customizable light therapy. It uses Natural Spectrum® daylight, which can combat the effects of seasonal change, "winter blues," shift work, jet lag, malaise and fatigue.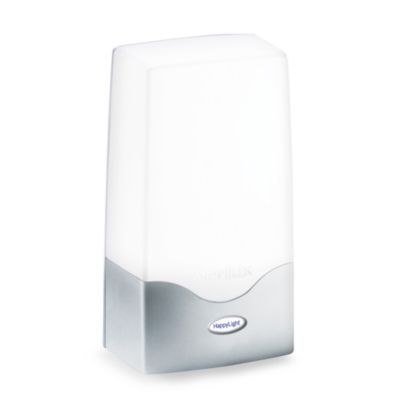 Verilux® HappyLight® Compact Energy Lamp
Price:
$39.99
Brand:
Verilux
Categories:
College > Relax > Lighting
The Verilux HappyLight 2500 compact Energy Lamp produces Natural Spectrum® light that improves mood, energy and concentration. This mini-version HappyLight is ideal for home, office or dorm room.