Crock-Pot® Stainless Steel 6-Quart Countdown Oval Slow Cooker with Dipper
This Crock-Pot® Stainless Steel 6-Quart Countdown Oval Slow Cooker with Dipper is a must have for any kitchen
Customize your cooking time and temperature by setting the timer anywhere between 30-minute and 20-hour on the High, Low, or Warm settings
Digital timer counts down the remaining time so you can coordinate side dish preparation and have a complete meal ready when you are
Digital timer counts up the time that it has been operating on Warm for up to 6-hours
Digital display face
On/off easy push-button controls
6-qt. capacity
Stoneware is removable and can go from countertop to tabletop
If you're not around when time runs out, this countdown expert will automatically shift to Warm, maintaining temperature and flavor
6-quart stoneware is removable and can go from countertop to tabletop
Stylish, smudge-proof finish
16-ounce Little Dipper Warmer is included to keep dips and sauces warm while serving
Made of durable stainless steel
Oval stoneware and glass lid are dishwasher safe
Measures 14.5"L x 9"W x 14.5"H
3-year manufacturer's warranty
Model SCCPVC605-S
SKU # 18700891
Crock-Pot® Stainless Steel 6-Quart Countdown Oval Slow Cooker with Dipper
51
56
do not buy. high heat
Ridiculous! Do not buy, cooks extremely high heat, even cooks high heat on warm. Company should be fined for selling such an awful product. Very disappointed.
October 13, 2014
Worth the money
I've been wanting to try slow cooking for a while, thinking it would be a great idea to have food ready once I get home. This Crock Pot cooks well, is aesthetically pleasing, and has a timer which is super convenient. i wish the timer could be set to start at specific time of day, not just countdown once it starts. It does switch to keep warm setting after the timer reaches the set time. Which is good, but I'm concerned food would be overcooked after a long day at the office. The ceramic seems of good quality, and cleans up well. I haven't used the small sauce pot, not sure when I would get around to that. I would warn that at the stores, the boxes of these pots look like they were tossed around like footballs or something. Every one of the ones at one store had dented edges and corners and one of them even had a large inexplicable bulge in the middle of the box. I had to go to two other stores before finding one that had only one dented corner. BBB should really take better care of items that customers would give as gifts, and boxes that contain glass and ceramic or other fragile contents.
October 6, 2014
Cooks Too Hot
There are some nice features with the crock pot - it's programmable, it auto-switches to "keep warm", etc. However, the crock pot cooks very high, even on low, so it is very hard to not dry out your meat. I have adjusted cook times to be on the very low end of a recommendation and it still can be too dried out. I would recommend looking for a different crock pot, one that has better temperature features. I'm generally pretty disappointed with this model.
October 3, 2014
Cracked pot!
This is the 3rd Crock Pot brand slower cooker in the last 4 years. All 3 ceramic pots have cracked. $19.00 plus shipping and they will replace the pot. No thank you! Time for a better brand.
September 29, 2014
Wrong handle/ top
I ordered the crock pot and needed to use it last week. The handle was completely wrong (didn't fit to lid when screwed in at all) and the lid looked to incorrect as well. Will you guys be able to send me a lid/ handle separtly so that I don't have to send the whole crock pot back? Thanks so much.
September 29, 2014
LOVE!
I LOVE this crock pot. It was the perfect wedding gift! I've finally been welcomed into the world of slow cooking and its amazing.
September 22, 2014
Wonderful Crockpot
Love this Crockpot. The timer is what makes this one a must have! Keeps you from burning your food on those busy days when your not around to turn off your slow cooker. Come home and your dinner is served! Fresh and NOT burned!
September 22, 2014
garbage
The ceramic coating on this pot started cracking shortly after I bought it, and is now to the point where the entire unit is unsanitary. I only had this for about 11 months of relatively light usage, I would recommend going with a different brand.
August 29, 2014
Related Searches:
Similar Products: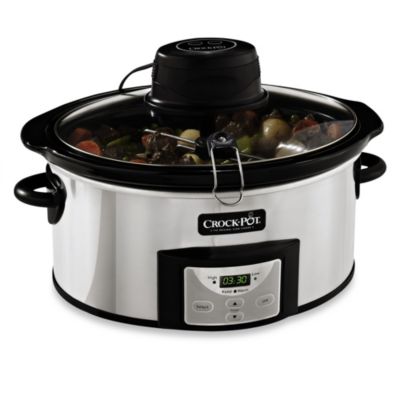 Crock-Pot® 6-Quart Digital Slow Cooker with iStir™ Automatic Stirring System
Price:
$59.99
Brand:
Crock-Pot
Categories:
Kitchen > Small Appliances > Slow Cookers
With programmable controls and automatic stirring, Crock-Pot® again raises the bar for slow cooking convenience. Innovative iStir™ system and countdown digital timer lets you perfectly cook your favorite dishes even if you're not in the kitchen.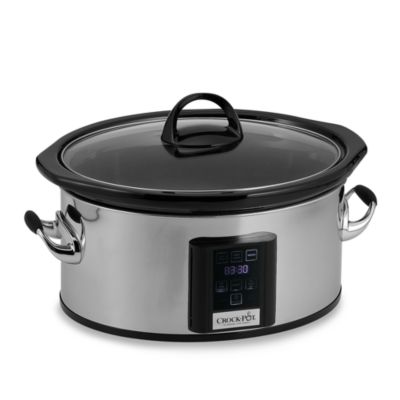 Crock-Pot® 6.5-Quart Slow Cooker with eLume™ Touchscreen
Price:
$79.99
Brand:
Crock-Pot
Categories:
Kitchen > Small Appliances > Slow Cookers
This slow cooker is user-friendly with its new eLume™ Touchscreen user interface, where all you need to do is touch for operation. The stainless steel exterior is attractive and durable with its 6.5-quart capacity for large dishes.